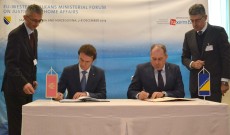 Sarajevo, December 7, 2015/Independent Balkan News Agency
By Mladen Dragojlovic
BiH and Montenegro signed on Monday in Sarajevo the Protocol on cross-border supervision, which paves the way for the establishment of the appropriate mechanism to combat cross-border crime.
Protocol was signed by BiH minister of security, Dragan mektic, and Montenegro minister of interior affairs, Rasko Konjevic. At the signing ceremony they stressed the importance of police cooperation strengthening in the region in accordance with the Convention on Police Cooperation in South-eastern Europe. The ceremony was held after the meeting of the delegations of the two countries.
After ceremony Konjevic told the media that with this step two states additionally strengthen the good institutional cooperation. He reminded that BiH and Montenegro don't have any open issues in their political relations.
"I would like to stress the importance of the Agreement on the border between two states, signed in August in Vienna, and also the importance of the exchange of experience related to the path of the Western Balkan countries to the euroatlantic integrations", Konjevic said.
He added that Montenegro received the call to join NATO, and estimate that this would be a step further towards regional stability.
Minister Mektic said that the Protocol that was signed today will enable a more efficient answer on threats and risks of the organized cross-border crime, terrorism, illegal migrations and human trafficking. He added that activities on the location and closure of illegal border crossings are almost completed. The two ministers agreed that it is necessary to open joint border crossings in order to create the conditions for more efficient control of the border. They also agreed that it will be good if, during the tourist season in Montenegro, BiH police officers joined their colleagues in the cities on the Adriatic coast to prevent any incidents involving BiH citizens.
Konjevic and Mektic stressed that it is necessary to develop and continue cooperation in the battle against terrorism. Mektic added that efficient answer on these threats and risks includes better cooperation, which involves among other things more efficient exchange of information. Answering a question on the migration routes, Konjevic said that this problem is not so conspicuous in Montenegro as it is in FYROM, Serbia and Croatia, but that his country is ready to help in the finding of solutions, in coordination with other regional countries and the EU.
Photo: Fena