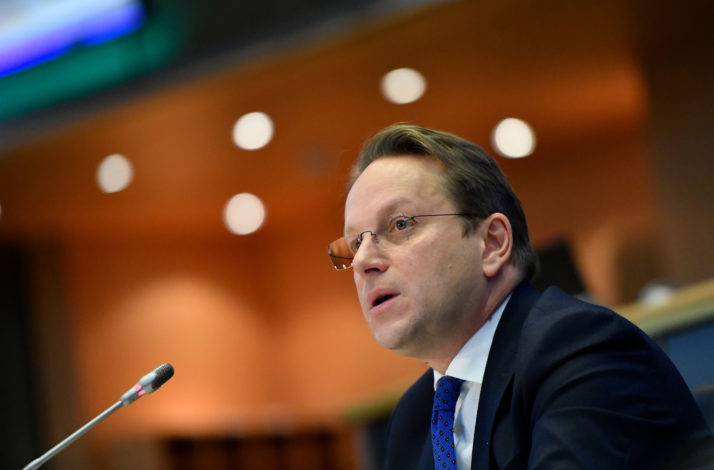 Bosnia and Herzegovina have made some "significant steps" on its path towards EU membership since 2018, but "most substantive issues remain pending," European Commissioner for Neighbourhood and Enlargement, Oliver Varhelyi, said in the European Parliament on Wednesday at a discussion on 2019-2020 BiH Progress Report.
Varhelyi noted that the European Commission adopted Opinion and analytical report on the BiH EU membership application and defined 14 key priorities for the country to fulfil ahead of the opening of accession negotiations. Those priorities were also supported by the EU Council.
"As I have told the political leaders of Bosnia and Herzegovina over the past year, we in the Commission are ready to deliver, including on candidate status, provided that Bosnia and Herzegovina also deliver with concrete results on fulfilling the 14 key priorities. I will keep my promise, if Bosnia and Herzegovina's leaders deliver we are delivering!," Varhelyi said.
He argued that BiH should "make the most of the months ahead to demonstrate that it takes EU integration seriously."
"That includes launching a debate on constitutional reform, and especially electoral reforms and the adoption of judicial reforms," he stressed.
BiH needs to amend its Constitution to comply with the EU membership requirements, as other candidate countries did, he argued, explaining that this means "full compliance with the European Court for Human Rights rulings and ensuring equal representation in the country for all."
"It also means ensuring the functionality of state institutions, so that they are able to effectively participate in EU decision-making and to enforce the EU acquis," he added, stressing that "this is an ambitious task that cannot be delayed any further."
This "difficult and sensitive" reform requires "constructive engagement of all political leaders to make it a success," Varhelyi said, adding that BiH Inter-Agency Working Group discussing electoral-constitutional reforms is "a first step in the right direction."
As for the rule of law, Varhelyi noted that several reforms are pending regarding the integrity of the judiciary, specifically amendments to the law on BiH top judicial institution, the High Judicial and Prosecutorial Council, as well as regarding conflict of interest and public procurement.
"This package of laws is about aligning with EU acquis and preventing corruption. We expect all parties to support it to demonstrate that they are serious in their commitments," he said.
"To advance on EU path, the political leaders also need to put a stop to negative rhetoric and denial of war crimes and genocide, which are unacceptable," he also said.
Varhelyi ended his speech by stressing that "Bosnia and Herzegovina's future is within the EU as a single, united and sovereign country."
"The divisive rhetoric of the past months needs to stop. Political representatives must focus on the much-needed reforms to recover from the pandemic and on the changes that Bosnia and Herzegovina's citizens are expecting," he said