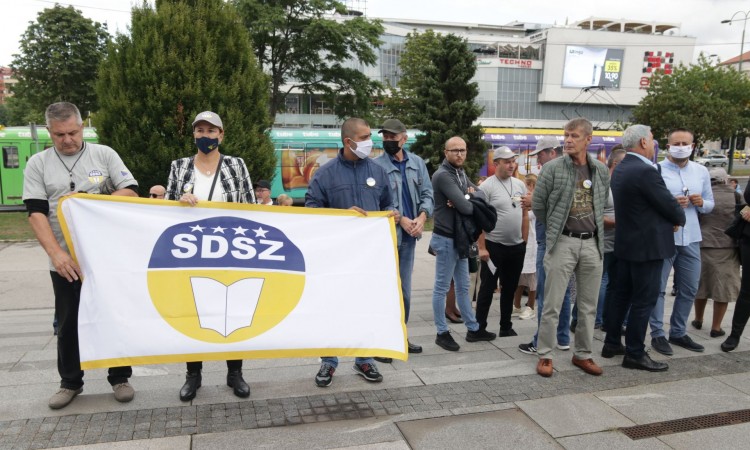 The Independent Trade Union of Civil Servants and Employees in BiH Institutions organized a protest in front of the BiH Parliament building on Monday in order to point out that the state budget has not been adopted and a collective employment agreement has not been signed. As they said, this situation directly endangers the livelihood of BiH state-level public servants.
The first man of the Trade Union, Salih Karčić, said that protests are primarily being held to inform the public about what is happening in state institutions, which he argued are being "destroyed" in order to strengthen two entities in BiH, Federation BiH and Republika Srpska.
"We have been sending our messages to our employer – the Council of Ministers, to our parliamentarians for the last five to seven years and held meetings, but none of it matters to them. When we come to a situation where our existence is endangered and we are not legally protected because we do not have a signed collective agreement, we have no choice but to organise as a union and go out to protest and hope that we will somehow pressure the parties to change something," Karčić stressed.
Since BiH state-level public servants lack a collective agreement, they are legally unprotected as a union, which Karčić described as a unique case in Europe.
According to Trade Union Leader, the about 20,000 people working for BiH Government institutions "live in fear" as not even their salaries are guaranteed at this point.
"If you have a signed collective agreement, you can claim your rights in court if your salary has not been paid. Since we do not have a collective agreement, they can do what they want," he said.
According to Karčić, they are also dissatisfied because the Budget Proposal for 2021 was sent to the procedure again, with a salary base of 475.69 BAM, which has not been increased in the last ten years.
"We have not had a salary increase in state institutions for ten years. We do not think that salaries are good at the entity level, but a big difference has been made in the last ten years. That is why our human rights are endangered," Karčić pointed out.
He explained that a cleaner in the civil service has a basic salary of 475 BAM and a highly skilled worker of 710 BAM.
"IT experts are in demand, they are not at the labour office, and our IT specialist has a basic salary of 760 BAM," he said.
Karčić added that, until the collective agreement is signed, civil servants on the state level would protest every month or month and a half and explain to the citizens that state employees work to survive and that their salaries are poor.