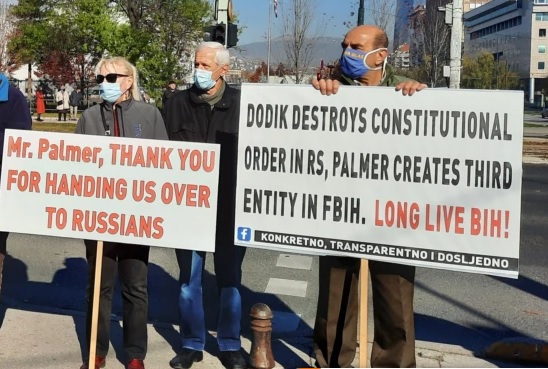 An informal group of citizens, who organized a protest in front of the Office of the High Representative in BiH a few days ago, gathered on Monday in front of the US Embassy in Sarajevo, asking the US to help resolve the crisis in the country.
According to Sarajevo media, a small group of demonstrators gathered carrying banners written in local and English, inviting US President John Biden to come to Sarajevo and resolve the political crisis. The banners also expressed dissatisfaction with the work of the special envoy for the Balkans, Matthew Palmer, who is claimed to want to form a third entity in BiH. "Thank you, Mr Palmer, for pushing BiH into the hands of the Russians," "Dodik is violating the constitutional order and Palmer is forming the third entity. Long live BiH!", "President Biden, come visit Sarajevo, that's the only way change is possible" are just some of the banners carried by the citizens.
The gathered pointed out that they expect Biden to help preserve the sovereignty and territorial integrity of BiH and ask him to send experts who will demand from the institutions the protection of citizens' rights instead of those who, as they said, "trade with political leaders".
"Today we came to express our dissatisfaction because we want every citizen to have equal rights," said Aida Đozić, one of the participants in the protest.
One of the organizers of the protest, Suad Đozić, said that the citizens gathered in front of the US Embassy because of the latest events and the visit of Matthew Palmer, the American envoy for electoral reform in BiH.
"People are a little confused with the views. We know that the United States is a friend of BiH. We now expect the help of the American president so that Mr Palmer would not cast a shadow on the sovereignty of BiH. We sent our requests to the Embassy, ​​"said Đozić.
After the protest, on the official Twitter account, the US Embassy in Sarajevo announced that they support the freedom and the right of citizens to peaceful assembly, but also that the opinion of BiH citizens is very important to them.
"We remain ready to talk to concerned citizens. We also encourage leaders to work on building a stable and prosperous future, unencumbered by corruption, as citizens deserve," the embassy said in a statement.
The statement added that the United States supports the sovereignty and territorial integrity of BiH, a state that is multiethnic and democratic.