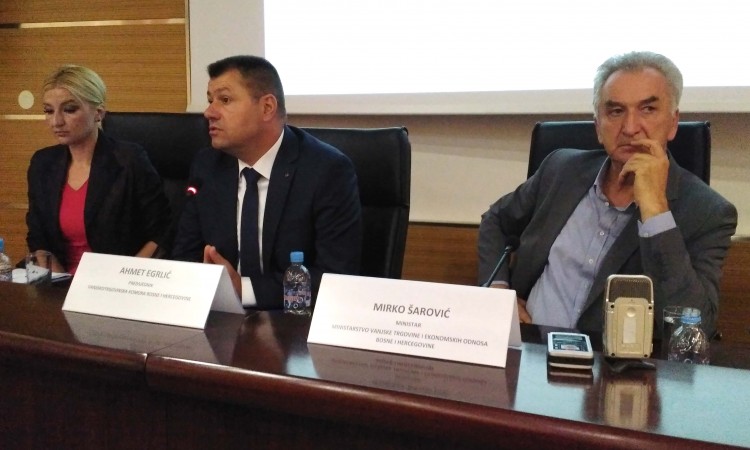 The biggest quantity of imported meat in BiH comes from EU countries and it represents about 90 percent of all imported meat, said on Tuesday in Sarajevo the BiH Minister for Foreign Trade and Economic Relations, Mirko Sarovic.
He said that the imported meat is of the worst quality, but that it has low price. He said that it is not true that BiH imports a large quantity of meat from Argentina. He added that it is important to emphasize, to inform the public, that information about large amounts imported from Argentina is not correct.
"However, imported meat is a type of waste in developed countries, and it comes to us at a minimum price", Sarovic stressed.
BiH, he said, opted for a liberal, free market, unlike some other economies, such as for example the Turkish economy, with a differently regulated market and "raising and lowering the ramp at the border when it deems it to be in its interest".
"We have a completely different concept, free trade, where the issue of protection is a very sensitive and authorities from various fields need to be trained. We are full of stories about protection, but when we start to protect a certain product, our unwillingness from the entity to the state level are barred for the implementation of this protection", Sarovic said.
He said that it is impossible to say that "BiH ban the import of meat in BiH starting tomorrow" and that, in a similar case, BiH should provide adequate statistical data, which should be a result of information exchanged between entities and state level.
"The data must be available to everyone, we need to make such estimates and explain to Brussels or the CEFTA Secretariat that BiH is right. The story about protection of domestic production as a reason why any ban should be introduced can not go just like that", he said.
Sarovic made these assessments during the presentation of BiH foreign trade with the world in the second quarter of 2017. At the presentation, organized by Ministry of Foreign Trade and Economic Relations, was emphasized that exports of BiH goods in that period amounted to 5.351.121.000 BAM (about 2.675.560.500 euro), which is an increase of exports of 13.91% compared to the same period of the previous year.