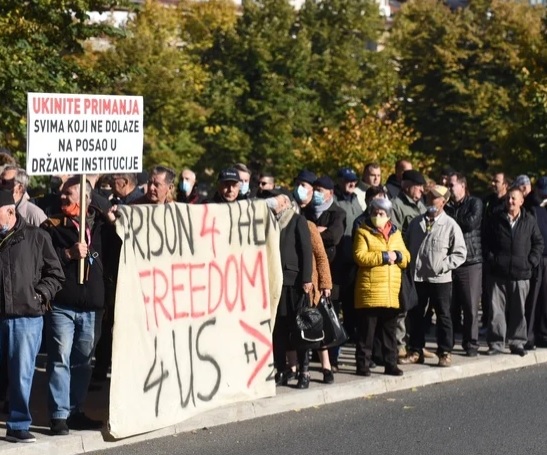 A group of, mostly Sarajevo, citizens called on the international community High Representative to BiH Christian Schmidt to act against those politicians who "endanger constitutional order".
During a peaceful protest in front of the Office of the High Representative on Monday, they requested the acts that will "prevent another conflict in Bosnia and Herzegovina". Translated, it means that they demanded that HR Schmidt use the "Bonn powers" to sanction the leader of the Alliance of the Independent Social Democrats (SNSD) and Serb member of the BiH Presidency, Milorad Dodik, for his intention to withdraw the consent of the Republika Srpska on the establishment of the BiH Armed Forces and other institutions that were earlier transferred from entity to state level. The BiH Consitution, as a part of the Dayton Peace Agreement, determined the minimum of the state responsibilities and foreseen that other competencies can be transferred on the state level only with the consent of all three constituent nations in BiH – Bosniaks, Serbs and Croats.
But, there is nothing about the return of the competencies from the state to the entity level. The Bosniak politicians read that as fait accompli, saying that it is not possible to withdraw the consent, and the Serb side says that it is not forbidden in the Consitution.
Some protesters said that "all of three national leaders in BiH – Milorad Dodik, Bakir Izetbegović and Dragan Čović – should be removed from offices".
Protesters in Sarajevo, gathered by the RestartBiH organization, consider this as a big threat and even the possibility for a new war in which Republika Srpska would fight for independence and Federation BiH for territorial integrity.
Suad Đozić, from the RestartBiH, said that BiH is a society ruled by three "ethno-oligarchies".
"They say that there are 150 political parties in the state. Where are they? I don't see them here. This moment is more than critical and they should express their position and be here where ordinary citizens came to express their dissatisfaction due to inaction regarding the destruction of the constitutional and legal order," Đozić said.
"We will hold the High Representative and the institutions of the international community responsible if they conduct and sponsor political negotiations that would represent a trade between the rule of law, ie the Constitution of BiH, decisions of the BiH Constitutional Court as well as international judgments and political agreements that would give amnesty to politicians who openly violate the Dayton Agreement and block the work of BiH institutions," Đozić said.
At the time when citizens protested, HR Schmidt was not in the OHR building. In fact, he was not in BiH at all but that did not prevent the group of protesters to go into the building to hold the meeting with officials that Schmidt appointed for his representatives.