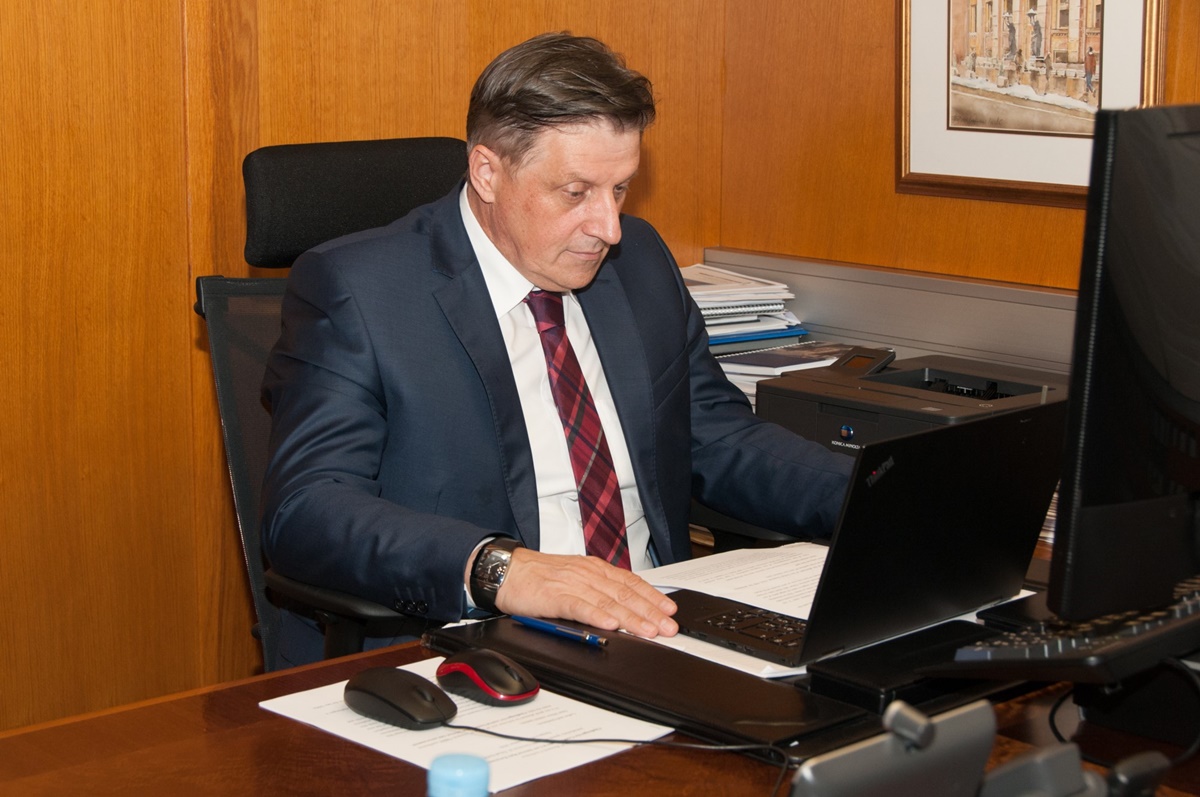 The Central Bank of Russia hosted the 45th meeting of the Club of Governors of Central Asia, the Black Sea Region and the Balkans, which was held on November 5, which was attended by the Governor of the Central Bank of Bosnia and Herzegovina (CBBH) Senad Softić Ph.D., via video link.
"The central topic of this Club of Governors was the discussion on the global economic and financial prospects in the context of the COVID-19 pandemic. The Governor of the Central Bank of Russia, Elvira Nabiullina, who also chaired the mentioned session, opened the meeting. Representatives of the International Monetary Fund (IMF), the Bank made interesting presentations for International Settlements (BIS) and the National Bank of China. The impact of the crisis is confirmed by the fact that the G20 economies experienced a 6.9% drop in GDP during the second quarter of this year alone. For comparison, the largest decline recorded in the midst of the 2008 global financial crisis was 1.6% (the first quarter of 2009)", CBBH announced.
Participants concluded that the final outcome would be difficult to predict, as many countries are facing a new wave of COVID-19 cases, and accordingly, they are forced to reintroduce social constraints that would inevitably lead to a decline in the service sector. However, it was found that the crisis has opened up some opportunities, such as the rapid development of digital payments, the entire home-based industry, the opportunity to redesign the existing supply chains, and the possibility of creating development policies that are more environmentally friendly. According to the IMF forecasts, the global economy is expected to shrink by 4.4% in 2020 and then grow by 5.2% in 2021. After rising in 2021, medium-term growth is expected to stabilize at 3.5%.
The second session was dedicated to the topic "Digital currencies of central banks: reasons for and against", where the discussion focused on the possible effects of their introduction on monetary policy and financial stability.
"Given the global trends in electronic payments and financial technologies, the steady decline in the amount of cash in circulation and the growing demand for more efficient cross-border payments, exploring the prospects of digital currencies has proven to be something that should be given priority in the future. Nevertheless, central bankers agreed that further feasibility studies on digital currency issuance, thorough analyses of the benefits and risks associated with their use, and a clear understanding of central banks' mandates to issue digital currencies are needed," CBBH said.
The Club of Governors of Central Asia, the Black Sea region and the Balkans has become an extremely relevant platform for the exchange of experiences, ideas and best practices in many fields of central banking. Its members, including central bank governors and other senior officials from the world of monetary policy and finance, meet twice a year to exchange views on current topics and to enhance further co-operation./ibna