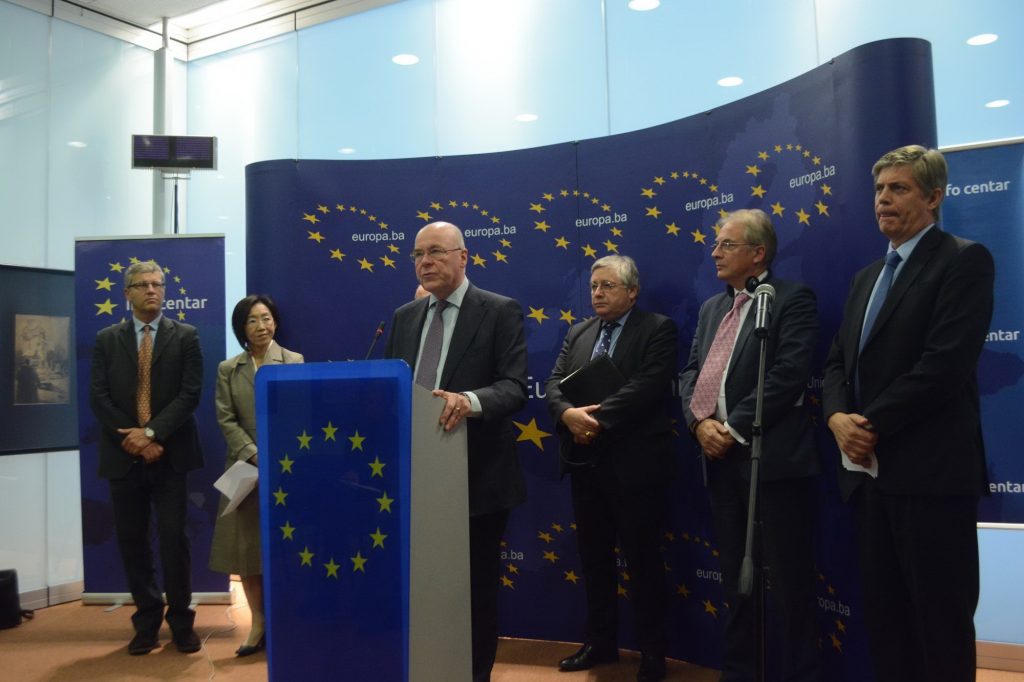 Sarajevo, October 12, 2016/Independent Balkan News Agency
By Mladen Dragojlovic
Chairman of the International Monitoring Mission for Population and Housing Census in BiH 2013, Pieter Everaers, said at a press conference in Sarajevo on Wednesday, that the census results are valid, and that the census in BiH was conducted in accordance with international standards.
But analysis of comparative data from the census and post-census surveys showed that about 200 000 enumerated inhabitants were not permanent residents of the country and should not have been included in census results. Also, the analysis showed that almost 41 000 citizens are not but should have been listed as residents. Speaking about this data Everaers said that it is not beyond the scope of the results in many other countries.
"The list is purely statistical procedure and the quality is expressed through the planned measures. Excessive enumeration of citizens is problematic and there is a way to verify the total number of population and the number of citizens in all categories. This excessive inventory was 4.6 percent, which is not an exception", Everaers said.
Assistant Director of the Agency for Statistics of BiH, Edin Sabanovic, stated that the number of over-enumerated citizens in BiH may be problematic. At the presentation of census results on Tuesday, Sabanovic said that  it is expected that there are slightly less than 200 000 persons who should not have been registered.
"All those who are not resident possess ID card and are in the CIPS's database. This is about 5.59 percent which is not negligible. In highly developed countries with good statistics the usual rate of over-coverage is less than one percent", Sabanovic explained.
He stated that the comparison of data of both survey and the census was done by internationally recognized dual system method and that most indicators show no drastically huge errors. The survey was conducted between November 2 and 10, 2013 on a sample of 240, or one percent of enumeration areas in 107 municipalities in BiH. During this process data on about 12,000 households or 12.00 housing units and nearly 37,500 persons were collected.
Sabanovic has stressed that the aim of the survey was to examine the impact of defects that occurred and to obtain useful information which will be used for future research and planning.
The census in BiH was conducted from October1 to 15, 2013 and was followed by a series of delays and disputes related to the release of the census results. After the session of the BiH Central Census Bureau  on May 18, it was announced that the census data processing methodology was adopted.
Based on the decision of the National Assembly, RS did not accept the data processing methodology due to disagreement on the treatment method of resident population. According to this methodology, 3,531,159 persons are permanently residing in BiH,  2,219,220, or 62.85 percent, are residents of the Federation BiH, 1,228,423, or 34.79 percent, in Republika Srpska and 83,516 or 2.37 percent in the Brcko District.
According to the results, 50.11 percent of BiH citizens are Bosniaks, 30.78 percent Serbs and 15.43 percent Croats.