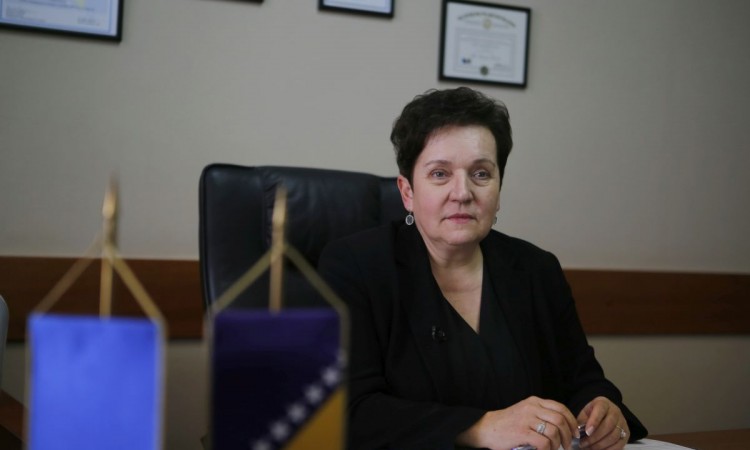 BiH Defence Minister Marina Pendeš believes that membership in αν important and large organizations, as it is NATO, can only bring a better tomorrow to BiH.
In his statement for local media, Pendeš commented the political dispute on the Annual National Program for NATO membership, which is opposed by Serb member of the BiH Presidency, Milorad Dodik. Days after the signing of the agreement on Principles for the establishment of the state level authorities, it is still not clear what it means for the ANP and state path toward NATO membership. The situation might clear next Tuesday when two BiH Presidency sessions will be held – one about ANP and second on the new Chairman of the Council of Ministers appointment.
But, as minister Pendeš said, Bosnia and Herzegovina cannot have three futures.
"Despite the internal disagreement on development and integration, we should all think together about where and how we see this country in the future. When discussing the future, BiH's goal should be clear, and that is the path to the EU and NATO. The integration process has repeatedly proved to be key to fostering the reforms that Bosnia and Herzegovina desperately needs. It is up to us whether, through political dialogue and selection, we can use this to foster security, socio-economic development and stability", the BiH Defence Minister said.
She noted that Bosnia and Herzegovina must make a choice – fulfil commitments or lose international influence. We must not allow, she says, the fulfilment of a technical issue such as the ANP to be treated as a platform for new internal disagreements. The withdrawal from the framework for coordinated strategic action, Pendeš stressed, would hurt Bosnia and Herzegovina's reputation and freeze relations with an important military-political organization.
"We have assumed all state obligations and we are required to fulfil them. Failure to fulfil our commitments on the NATO path will affect the perception of our political seriousness in European integration, too", she said.
Welcoming the signing of the Principle for Formation of Government at the level of Bosnia and Herzegovina, Pendeš points out that the above step demonstrates BiH's commitment to improving relations with NATO.
"Point 3 of the Principle addresses the NATO issue and represents an extremely significant and important step in the realization of relations and unification of positions in the field of international integration", she said.
Pendeš states that it must be made clear that any progress towards EU and NATO integration does not threaten national interests and state sovereignty, but contributes to the vision of a modern, open and constructed Bosnia and Herzegovina.
"European and Euro-Atlantic integration are compatible processes, which will contribute to the momentum of BiH's new, sustainable and long-term success. Rejecting the opportunity for strategic steps leads to an isolation of Bosnia and Herzegovina in the heart of the European continent", the BiH Defence Minister concludes./ibna