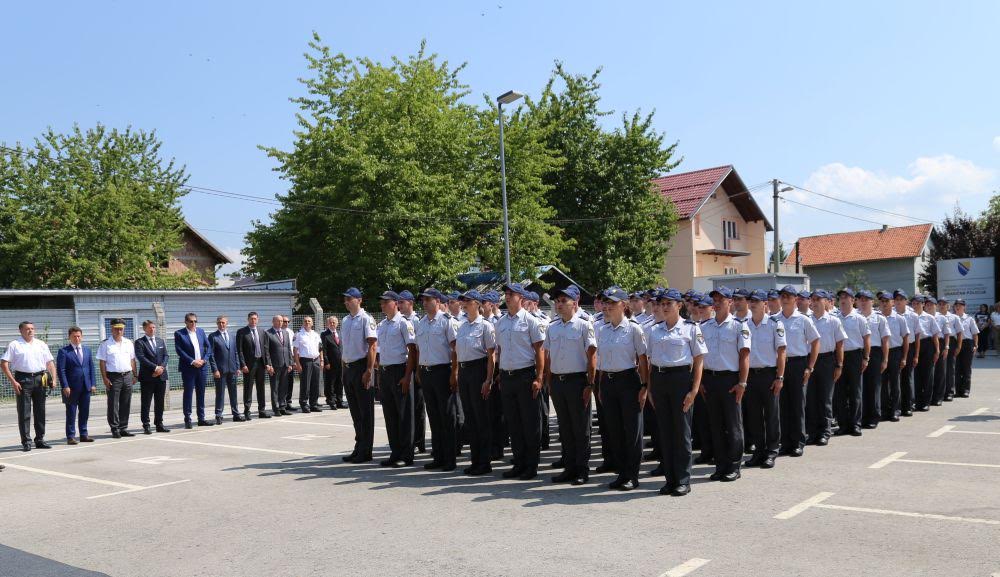 Within 2018, Bosnia and Herzegovina's Border Police (BiH BP) has faced and keeps facing various challenges as more migrants from the Middle East are using the "Bosnian route" in order to reach EU countries -their utmost goal.
Two of the top difficulties they have faced were to stop migrants on their way to the EU and registering those who enter the country through illegal border crossings. The challenge was way too big and the situation demanded extra help that was provided by the regular police forces from Republika Srpska that joined in to help colleagues on the eastern BiH borders.
The good news is that one hundred new Border Police officers who were trained in Mostar, and took an oath at a ceremony in front of the Head Office building of the agency in Sarajevo, are expected to engage as soon as possible in handling the migrant crisis alongside their veteran colleagues. A hundred of cadets attended basic police training at first level and, after passing their final exam, they became eligible to be promoted to the 'Police officer' rank, for which they received certificates at the Agency for Education and Professional Training in Mostar.
Addressing his new colleagues and guests at the ceremony, BiH BP director, Zoran Galić, pointed out how important higher staffing levels are at the moment due to the numerous challenges ahead of this police agency.
"I do not doubt your determination and commitment to accept all the professional challenges. Proudly wear your police uniform and be a role model among your family members and for the whole community. Your profession is very important and demanding, and you are expected to permanently work on your professional training, legally and consistently, without discriminating between people", said Galić.
Deputy Minister of Security of BiH, Mijo Krešić also addressed attendees, saying that BiH BP is one of the best police agencies at state level. He welcomed the cadets to the security system of BiH, the BiH Ministry of Security and the BP BiH.
"You are the new force of BiH BP. You are taking an oath so, you should be aware that you are mirroring BiH, and that the image of BiH is being constructed through you. Be fair, respect the law and protect the border and interests of BiH", Krešić stressed.
The cadets were trained according to the new curriculum, harmonised with curricula of all police agencies in BiH, and conforming to European standards. After successfully completing the training and took today's solemn oath, they will be admitted to the BP BiH for a 12-month trial work.
According to recent available data, about 12,000 migrants have entered Bosnia and Herzegovina (BiH) since the beginning of this year and until August 29. According to the BiH Council of Ministers' Chairman, Denis Zvizdić, 11 191 migrants sought asylum but only 835 have actually applied for it.
Most migrants come from Pakistan, Syria, Afghanistan, followed by those from Iraq, Iran and other countries. In 99 percent of cases, they do not carry identification documents on them, however they do seek asylum and international protection upon their arrival in BiH. They do not intend to stay in the country, using it as a transit state while en route to the heart of Europe and quite often countries like Germany and Holland.
Currently, there are some 3 000 immigrants in BiH, the majority of which are economic migrants…. / IBNA