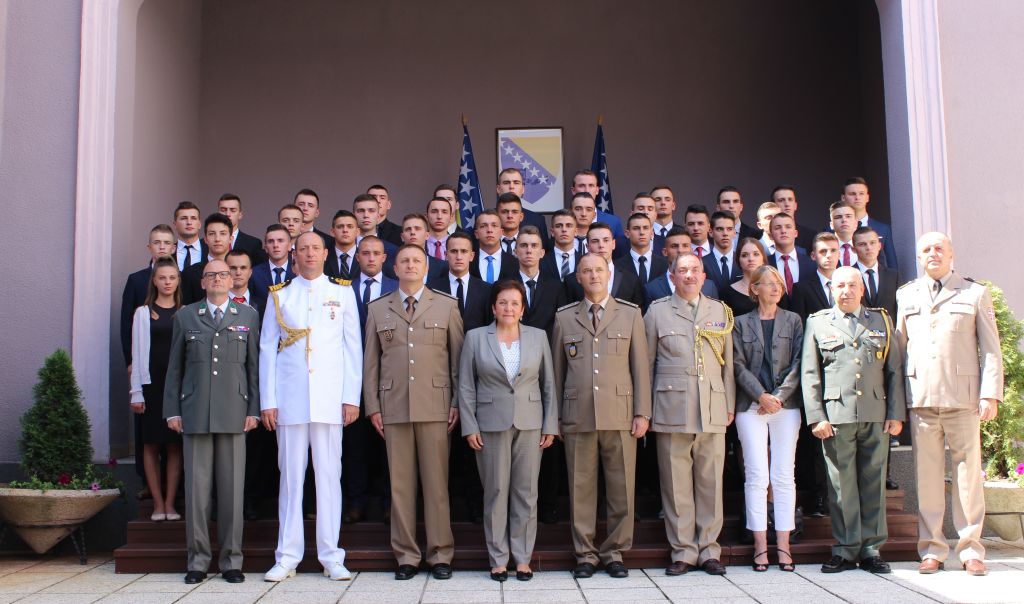 The BiH Ministry of Defense held on Wednesday the farewell ceremony for cadets of BiH Armed Forces who will continue the education on the military academies abroad.
This year, future BiH AF officers were sent to military education institutions in Austria, Greece, Croatia, FYROM, Serbia, Turkey and the United Kingdom. BiH Minister of Defense, Marina Pendes, and other representatives of the MoD and BiH AF, representatives of the embassies of the countries where the cadets are heading, as well as their families attended the ceremonial reception of the cadets and cadets.
"By sending cadets and cadettes around the world, BiH show that we respect the traditions of diversity in order to strengthen our community. We will continue to work diligently, in order to increase the number of positions for the education of young people at partner military academies, which, with the reception of civil servants and the process of career advancement, will lead to the creation of a sustainable and high quality human resource management system in the Armed Forces of BiH. People are our most valuable resource", Pendes concluded.
In school year 2017/2018 the MoD BiH sends 60 cadets to military schools and academies abroad. Eight cadets will continue the education and training at the Greek Military Academy in Athens and the Academy for Officers in Thessaloniki, three cadets at the Croatian Military Academy in Zagreb, five cadets at the Macedonian Land Military Academy in Skopje, 11 cadets already, on August departed for the Serbian Land Army Academy and the Air Force Military Academy in Belgrade, 21 cadets go to the Turkish Military Academy in Ankara and the Air Force Military Academy in Istanbul, two cadets to the British academy of the Royal Air Force Cranwell, and 10 cadets are sent, this year for the first time, at the Military Academy in Austria.
Upon their arrival at the academy, the cadets will join colleagues who have been sent in previous years. The MoD BiH will thus have a total of 139 cadets of the AF of BiH who are trained in these seven countries and the US. After completion of their education, the BiH AF will get highly educated and quality officers, who in the future will be the backbone of the BiH AF officers' corps./IBNA