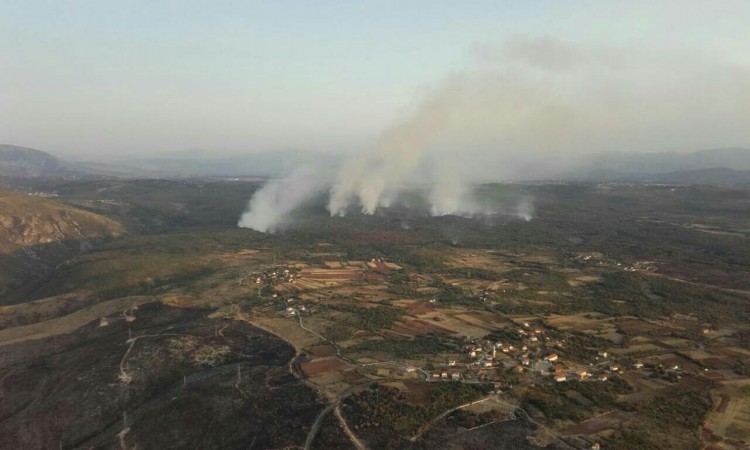 The BiH Armed Forces continued providing assistance to the citizens and firefighters in the battle with the fires that have been active in the wider territory of BiH over recent months.
BiH Air Force, on Monday, with an Mi-8 MTV helicopter, were engaged in firefighting at the Ostrelj locality in the municipality of Drvar (west part of BiH). Operating at the site, the helicopter recorded two hours of flight, with more than 13 tons of water being thrown out on nine occasions.
In addition to the helicopters and crews of the BiH AF, 10 officers fully equipped for firefighting, were also deployed to fire extinguish at the Cvrsnica locality in the Posusje municipality, while more than 100 members were on standby.
The previous day, 27 August 2017, OS BiH members actively contributed to the reconnaissance and fire extinguishing in the municipalities of Mostar and Drvar, where the AFB helicopter, operating at locations affected by fires, achieved 6,7 hours of flying, with over 13 tons of water discharged.
Unfortunately, the BiH AF helicopter service is almost the only help which firefighters receive from state level government, despite the fact that wildfires this year are the most intense in the last several decades. The inability of governments to help is so big that many officials stated that BiH needs a strong rain which will help firefighters to extinguish the fires on so many places. The first serious help came last weekend when BiH Ministry of Security donated equipment for the firefighters brigades in 10 municipalities. But, the season is, as many hope, near to an end so this equipment will be useful next year.
GThe lack of equipment pushed the firefighters to find various manners to fulfill their tasks, but they had to be innovative. So, in Trebinje municipality they hired a horse to carry water and food for firefighters' teams on the hard-to-reach terrain. They named him "Trebinje Canader".
On the territory of the BiH Federation, many fires are still active on several localities. According to latest information from the field, the population of areas affected by fire is currently not threatened.
Federal Civil Protection Administration (FUCZ) spokeswoman, Maida Kovac, said that the worst situation is in the Drvar municipality where, on the mountain Jadovnik, high forests are burning, and this is a terrain contaminated with mines. On more than ten other locations the situation is still under control but fires are still active.
The FUCZ again urges citizens to behave in a responsible manner, and refrain from lighting fire outdoors. Human activity, as the investigation in majority of cases show, is the main reason of the fires which destroy one of the biggest natural resources./IBNA