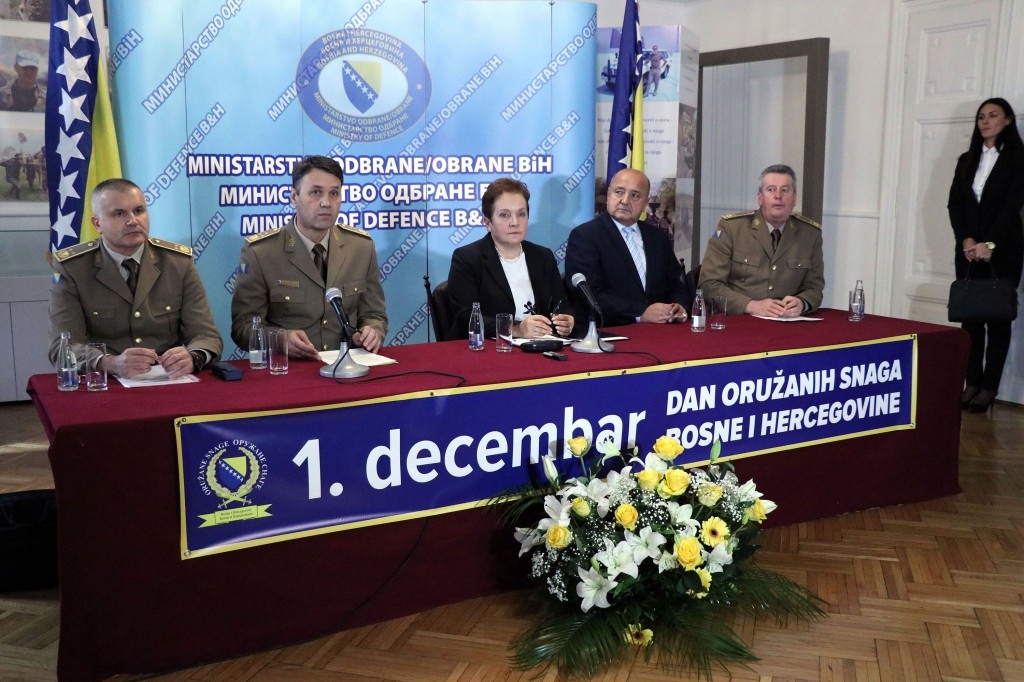 During 2018, the Armed Forces of Bosnia and Herzegovina (BiH AF) were focused on capacity, functions and capabilities improvement along with the improvement of the interoperability system, continuing the implementation of priority tasks at home and abroad within peacekeeping missions, affirming itself as a factor of peace and stability.
This was highlighted at the press conference in Sarajevo on Wednesday, organized on the occasion of the marking of the Day of the BiH Armed Forces, December 1 and the 13th anniversary of the BiH AF establishment.
BiH Defense Minister, Marina Pendeš, pointed out that activities within the BiH defense system have focused on the implementation of the document called "Defense Review" as a strategic document in the past few years, which gives guidelines for the improvements of the Armed Forces in the next ten years.
"The BiH Presidency adopted this document, and its implementation leads to the activation the MAP (NATO Membership Action Plan)", Pendeš said.
She added that the implementation of the Defence Review will take place in two phases, and that the first phase is completed. That phase, as she said, involves the preparation of all necessary documents, while the second phase is related to the activation of the MAP and the increase of budget funds for the defence sector, which means adequate equipping and modernization of the Armed Forces.
Chief of Joint Staff of the BiH Armed Forces, Senad Mašović, underlined the readiness of the Armed Forces to respond to all the challenges, in accordance with the mission and role defined by the BiH Defence Law. It includes improving of overall capacities and strengthening the chain of command and control from the highest strategic to the lowest tactical level, as well as the degree of interoperability of the BiH AF.
Speaking about the achievements of the OSBiH in the previous period, he emphasized the continuity of OSs in the personnel recruitment plan (600 new soldiers and 64 officers in 2018), training and participation in international exercises, as well as within the continuation of engagements in peacekeeping missions under the auspices of the UN in Congo and Mali, NATO led in Afghanistan and the Central African Republic under the leadership of the EU.
Earlier on Wednesday, Pendeš held a meeting with Maryland National Guard commander, Linda Singh. Pendeš emphasised the importance of the NATO Membership Action Plan (MAP) for BiH, in order to start the modernisation of the Armed Forces.
"Peace, stability and investments in BiH is a priority to everyone. I suggest continuing the cooperation towards the civil-civil cooperation, which would additionally strengthen the partnership between BiH and the State of Maryland", Pendeš said, adding that the cooperation in the upcoming period could focus at the academic level.
General Singh voiced the full support to the plan of activities for 2019, within the partnership with the BiH Armed Forces, which includes exercises, exchange of experience and joint training activities./IBNA