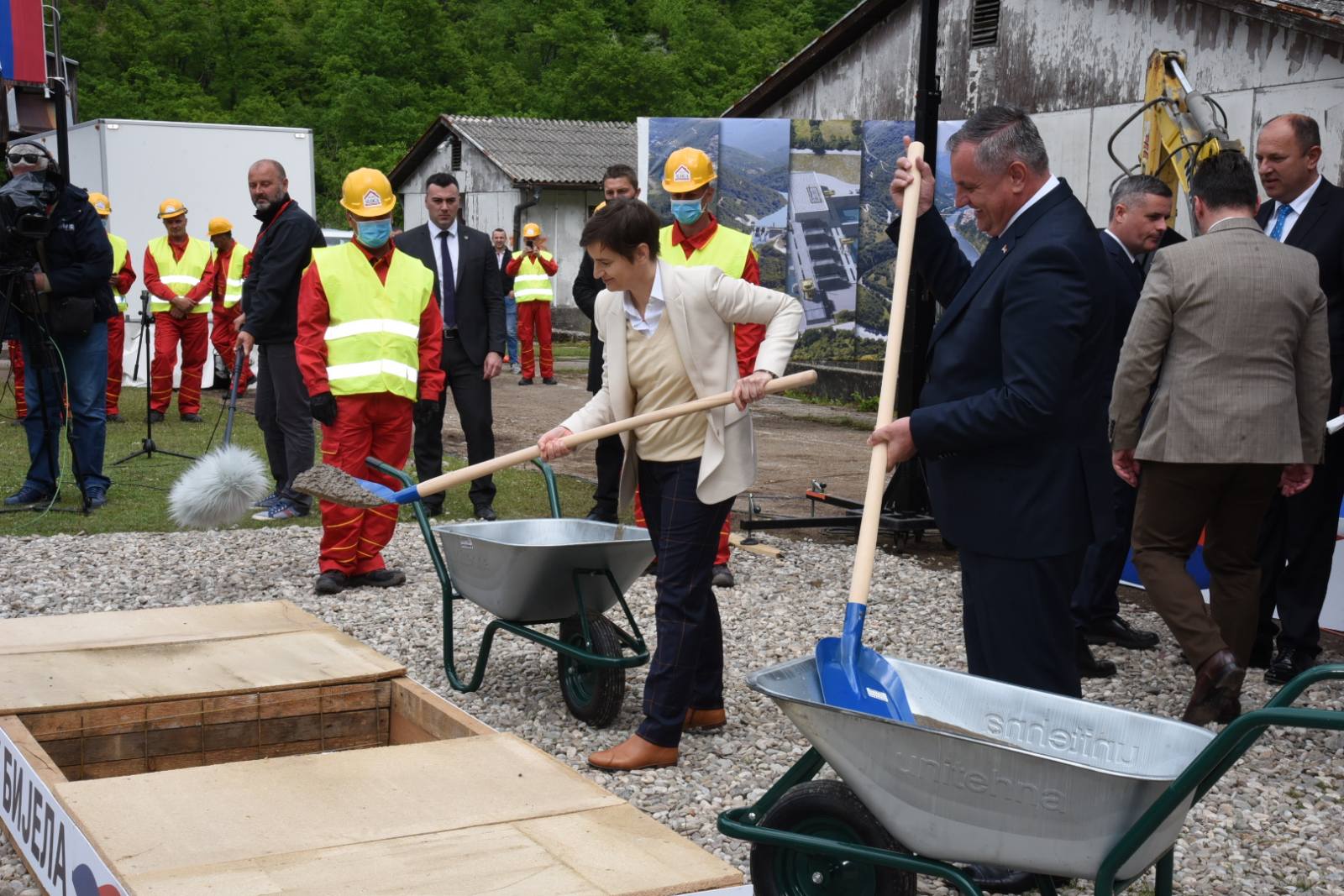 The Prime Ministers of the Republic of Srpska, Radovan Višković, and Serbia, Ana Brnabić, laid the foundation stone for the construction of the Hydroelectric Power Plant / HPP / "Buk Bijela" on the river Drina, at the site near Foča.
With this act, the beginning of the construction of a highly profitable electricity factory was made official, which has been awaited for more than half a century.
HPP "Buk Bijela", as planned, will be the first of three hydroelectric power plants of the Hydropower System "Gornja Drina".
The construction of HPP "Buk Bijela" will be jointly financed by the electric power companies of Serbia and Srpska, for about 220 million euros, as previously announced by the Minister of Energy of Srpska, Petar Đokić.
The construction of three hydroelectric power plants is planned on the initial thirty kilometres of the Drina, in the area of ​​the municipality of Foca.
After the construction of HPP "Buk Bijela", which should last for five years, hydroelectric power plants "Foca" and "Paunci" will be built downstream from it.
The realization of this strategically important infrastructure project of HPP "Buk Bijela" with a 57-meter high concrete dam, which has the largest installed capacity of 93.52 megawatts and the expected annual production of 332-gigawatt hours, has been waiting for a full 50 years.
However, not everyone is thrilled with the idea of ​​building a dam on this site. BiH Foreign Minister Bisera Turković said that Serbia could have "legal problems" because of this project.
"The authorities of the Republic of Serbia must know that by entering the construction project of the HPP Buk Bijela, which does not have the approval of the State of BiH and which is contrary to the BiH Constitutional Court decisions, they are risking not only economic damages but also harming the good neighbourly relations. BiH is ready to accept all investments and joint projects that are in the interests of citizens of both countries, but only with the respect of the Constitution, the law and the institutions of BiH," Turković said.
She called on the authorities of the Republic of Serbia to return the cooperation to the interstate framework and to the framework of the declared positions on mutual respect for sovereignty and territorial integrity.
"The authorities of Bosnia's Republika Srpska (RS) entity have been refusing to implement the verdicts of the BiH Constitutional Court for a long time and they are continuing to dispose of state property, ie the potentials of the Drina River. I want to believe that Serbia does not support such illegal activities and that it will not invest the money of its taxpayers in projects that violate the laws and decisions of Bosnia's Constitutional Court," Turković concluded.