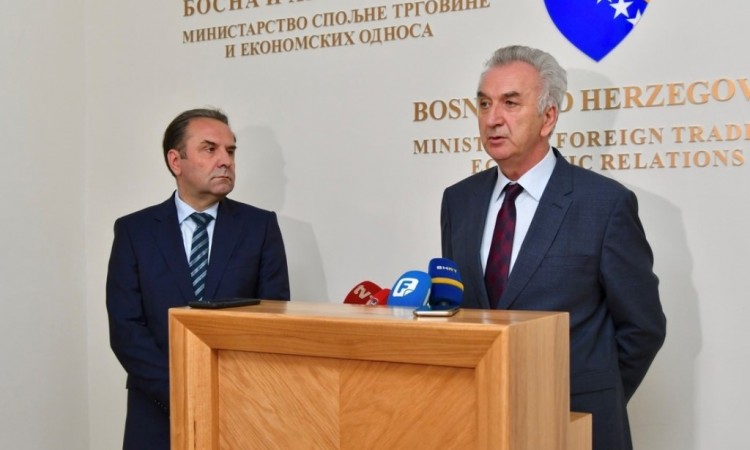 Trade Ministers of Bosnia and Herzegovina and Serbia, Mirko Šarović and Rasim Ljajić, met in Sarajevo to discuss joint countermeasures against Kosovo, six months after it imposed 100% tariffs on imports of goods from the two countries.
BiH Minister of Foreign Trade and Economic Relations, Mirko Šarović, said that it has been six months since the introduction of the customs tax on the part of Kosovo and that no progress has been made towards its abolition.
"We discussed further steps and the possibility to coordinate certain actions in the same way that discriminatory measures are applied in the same scope and in the same manner in both countries," Šarović said after the meeting.
According to him, exports from BiH to Kosovo have dropped dramatically over the past six months, especially in the first four months of 2019.
"In the first four months, BiH exported goods worth just EUR 500 thousand, while, in the first four months of 2018, this amount was higher by EUR 19 million, which represents a drop in exports of 97%. In total, BiH exported fewer goods worth EUR 27 million. There is no supplier from BiH who can export under such circumstances," Šarović said.
He stressed that after the summit of the leaders of the Western Balkans, both countries must undertake credible actions.
"We will consider the possibility of introducing countermeasures to Kosovo, and we asked for the engagement of the European Commission to work on the urgent reform of the regional free trade zone. CEFTA is in the biggest crisis so far," Šarović concluded.
Deputy Prime Minister and Minister of Economy in the Government of Serbia, Rasim Ljajić, said that Kosovo's tariffs have caused great economic and political damage.
"Economic for BiH and Serbia and political for the entire region. The sale of goods to Kosovo has been halted. The biggest damage has been caused to small and medium-sized enterprises in Serbia, and now they are facing the fact that they can not find an alternative market", he said.
He warns that the economies of BiH and Serbia will lose their market in Kosovo, as other players have stepped in to replace them so far.
"Albania has increased exports by 100 per cent in Kosovo, Slovenia by 54 per cent, Croatia by 78 per cent. All that is saying that neighbouring countries have taken advantage of this situation. Kosovo however is also a big loser because they pay for more expensive goods," Ljajić said.
Ljajić pointed out that, since November 21, when the taxes were imposed, until May 21, Serbia delivered to Kosovo EUR 189.5 million less worth of goods compared to the same period last year, which represents a fall of as much as 80 percent. This practically means, as he said, that the damage is higher than one million euros per day.
He emphasized that there is a great responsibility on the part of the European Commission and that they will seek modalities for further cooperation.
In addition, the two ministers used the meeting to discuss trade relations and issues of cooperation with Turkey, within the Turkey, Serbia and Bosnia and Herzegovina trilateral meeting./ibna