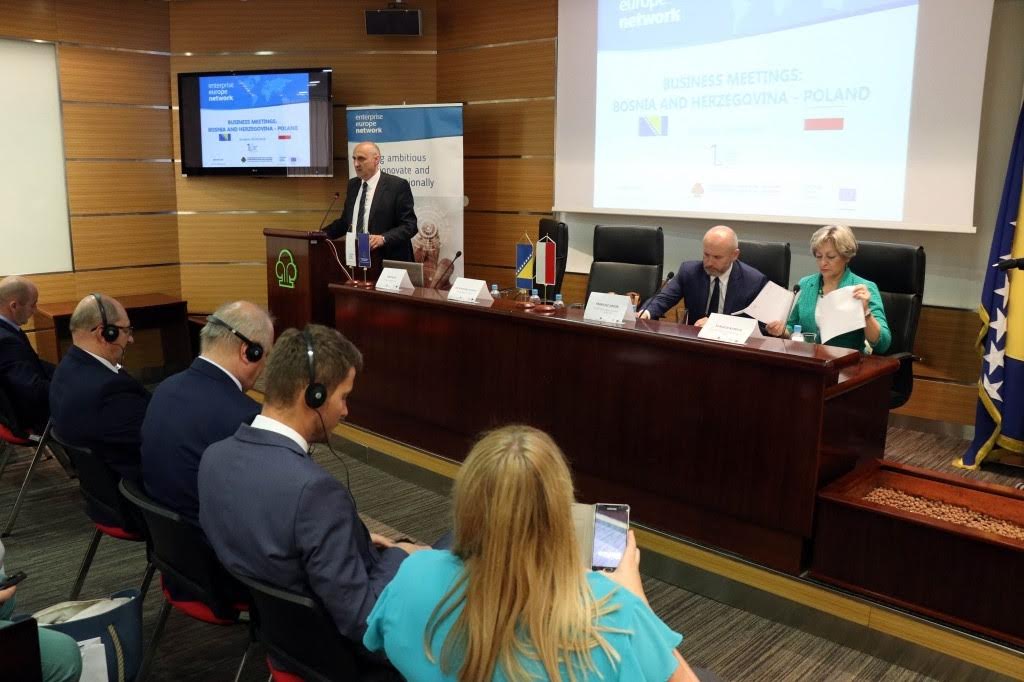 Trade exchange between Poland and Bosnia and Herzegovina has plenty of space for improvement concluded businesspersons of Bosnia and Herzegovina and the Republic of Poland at a meeting held on Wednesday at the BiH Foreign Trade Chamber (VTK BiH) in Sarajevo.
According to statistical data, the BiH export to import ratio, which was 28 percent last year, reached 37 percent in the first seven months of this year. Though this is factual improvement, there is room to beef it up. The Co-ordinator of the European Entrepreneurship Network in the Federation BiH and Head of the Department for EU Affairs and Projects at the VTK BiH, Amir Hujić, said that representatives of 30 companies – 15 from BiH and 15 from Poland – participated in the plenary session. After the session, they had the opportunity for B2B meetings. Companies that expressed interest in meetings of the kind are from sectors of food production, air conditioning and heating, metal industry and the automotive industry.
"BiH is in deficit in foreign trade with Poland; total exchange stands at 622 million BAM (about 311 million euros), out of which 460 million BAM (about 230 million euros) correspond to imports. Aluminum, textile products and petroleum oils dominate Bosnian exports, while most of us import coke and meat products", said Hujić.
In particular, he highlighted the great potential of BiH in terms of nutrition and healthy food production, adding that the companies from Poland are very interested in such products. Poland's economic delegation, according to the co-ordinator of the European Entrepreneurship Network of Western Poland, Agnieszka Turynska, visited Banja Luka earlier at a similar meeting.
"We hope that this meeting of business people will be successful as it was in Banja Luka and that we will succeed in establishing and developing good co-operation. We are here thanks to the European Entrepreneurship Network that helps different entrepreneurs from the EU, but also from outside (of the bloc), namely BiH, China, Chile, Brazil etc. in the process of internationalisation, integration and joint business", said Turynska.
As far as funding is concerned, she added that financing is received from the EU commissions, as well as from the Polish budget, and their activities are aimed at small companies in order to develop further and have a presence in the local and international markets…. / IBNA