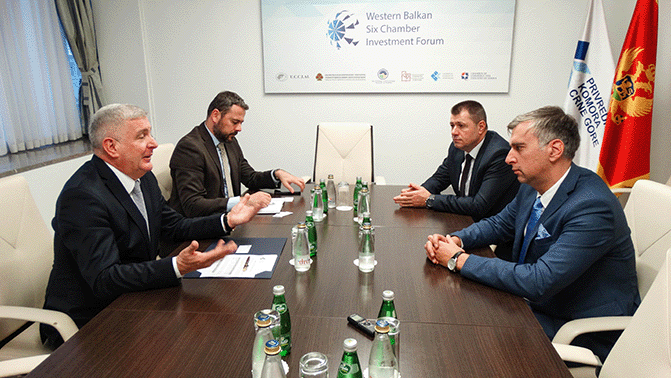 Montenegrin Chamber of Commerce President Vlastimir Golubović spoke with Ambassador of Bosnia and Herzegovina Branimir Jukić and Vice President of the Foreign Chamber of the country Ahmet Egrlić.
President Golubović presented the Chamber's activities in creating a favorable business environment, promoting the economy at trade fairs and business forums. He also pointed to the very good interstate and economic cooperation between Montenegro and Bosnia and Herzegovina.
"Since the renewal of Montenegro's independence, Bosnia and Herzegovina entrepreneurs invested 125 million euros in Montenegro. This year, investments from your country are the largest and amount to more than 30 million euros," Golubović said.
He emphasized the high-quality cooperation with the Foreign Trade Chamber of Bosnia and Herzegovina, both bilaterally and within the chamber associations.
During the talks, interlocutors discussed the possibility for these chambers, in the beginning of 2020, to organize a forum of businesspersons of the two countries, which would connect furniture manufacturers from BiH with investors in the hotel industry of Montenegro.
"There is certainly room for more intensive cooperation between our businessmen and I am convinced that organizing a business forum would help," Ambassador Jukić said.
BiH Chamber Vice-President Ahmet Egrlić said that the ambassador's initiative to hold a business forum is in accordance with τηε talks of presidents of the business associations, and that he would initiate the organization of such an event as soon as he returned to Sarajevo. According to him, supplying hotels with furniture is a very good topic for business meetings.
"Significant tourism projects are being realized here and we want to introduce investors to the capacities of our furniture industry", Egrlić said.
It was announced that Montenegrin businessmen will participate in the works of the International Conference on Digitization, which will be organized in Sarajevo in 2020, and that on that occasion the possibility of developing joint IT products will be considered./ibna