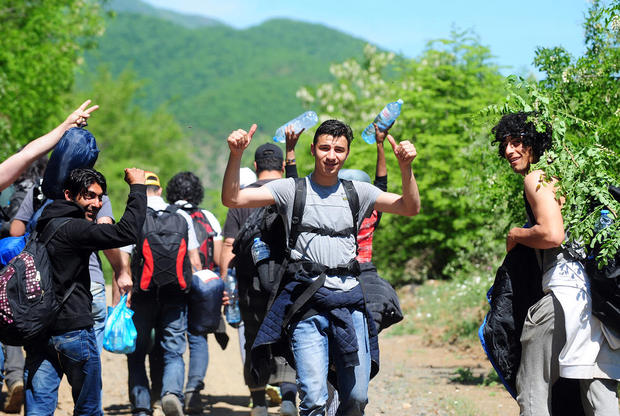 Banja Luka, September 7, 2015/ Independent Balkan News Agency
By Mladen Dragojlovic
Bosnia and Herzegovina can be only transit country but not the target country for thousands of refugees from Syria, which for months are trying to reach the rich states on the west of Europe.
This was confirmed by police Director of Republic of Srpska, Gojko Vasic, who said that because of economy situation in BiH and some other countries, they are not the countries which will be in the interest of Syrian refugees. He told to media in Banja Luka on Monday that it is possible that refugees try to reach Croatia and "Schengen  countries" over Albania, Montenegro and BiH, or that they will come from Serbia in BiH to avoid blockades and bad treatment.
"But, they know that BiH system is not able to give them the relevant social assistance, so they don't want to stay here. In fact, a large number of them fled from their country to avoid the bad social situation and just some new suffering that can result from them staying here", Vasic said.
He added that in BiH and Serbia have a certain number of empty facilities which can be used for their accommodation. But, as he said, refugees will take the first chance they get to continue the way toward EU countries and there is no fear of them staying permanently in BiH.
BiH Minister of security, Dragan Mektic, said for media in Sarajevo that intelligence information confirmed that refugees for long time will not use the route over BiH on their way to EU.
"All refugees are still on the route from Greece, over FYR Macedonia and Serbia to Hungary and Austria. They don't change this route even for a kilometer left or right. That is why we still don't expect significant arrival of refugees. In fact, the route over BiH would be a step back for them because they will have one more border to cross on the way to their final destination", Mektic stressed.
He added that BiH takes this question very seriously and prepares for the possible arrival of larger number of refugees in the state from the East. Mektic said that, at this moment, BiH is helping refugees with humanitarian aid, such as food, water, medicine, etc. If they change their route and come to BiH, as Mektic said, BiH will have a proper answer for this cituation in accommodation facilities and humanitarian support.
Most of the citizens in BiH express sympathy with refugees but some of them are also calling on stronger action to help the refugees. Association of parents, from Sarajevo, issued on Monday announcement to call institutions for larger help and citizens to take families from Syria in their apartments. Some organizations are collecting humanitarian aid which will be soon sent in Serbia and distributed to those who are in need.