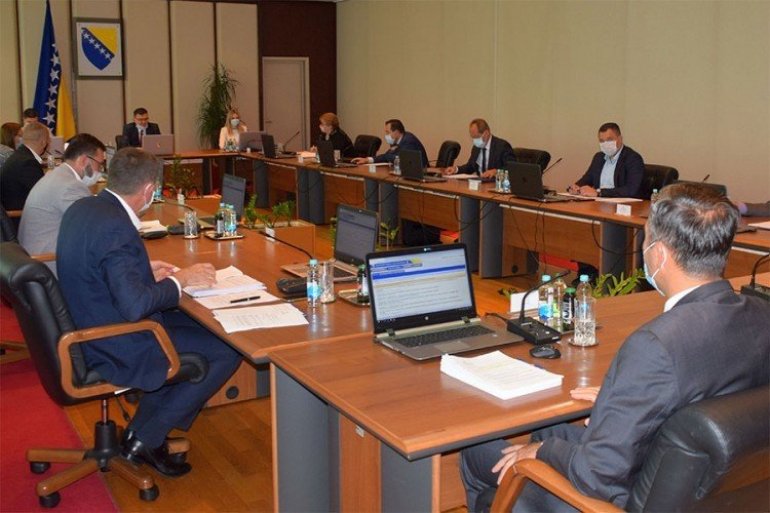 The Council of Ministers adopted a Revised War Crime Cases Strategy at an extraordinary session on Thursday, said Minister of Justice in the Council of Ministers, Josip Grubeša.
The revised strategy proposed by the Ministry of Justice in the Council of Ministers and voted on in the second round, was adopted unanimously.
Grubeša reminded that the Revised Strategy was adopted two years after it had been developed, and that the stumbling stone was an addition to this document for two years.
"All this time, I was requesting no amendments to be made, not even additional commas, however, the political representatives who participate in the government demanded its clearer definition, which we realised via Annex B", Grubeša told the press.
Emphasizing that this amendment to the Revised Strategy is not extensive, Grubeša specifies that it defines the BiH Prosecutor's Office's request to submit statistical data within 90 days regarding the number of persons convicted, including whether the verdict is acquittal or conviction.
He added that Annex B requires the Prosecutor's Office of BiH to submit the number of persons whose cases are on appeal, the number of those awaiting the first instance decision, as well as the number of persons currently under investigation and against whom the investigation has been suspended, and the number of persons against whom no proceedings have been initiated, i.e. which have not yet been put into process since 2004.
"Another fact that defines the Strategy more closely is the supervisory body that we reduced with this annex and introduced the institution of the Court and the Prosecutor's Office of BiH and international representatives as non-voting observers," Grubeša said, adding that the Ministry of Justice should submit composition of this body to the Council of ministers within 30 days.
He specifies that this annex also defines regional cooperation, which includes cooperation with the court and prosecutor's office in the Hague.
"Unfortunately, we have a large number of war crime cases in various phases. This strategy will enable the Prosecutor's Office of BiH to more easily disperse less complex cases to lower levels so that they can complete the processing of war crimes as soon as possible," Grubeša said.
He says the Revised Strategy is one of 14 and later one of the eight priorities the EU has set for BiH on its path to the Union. "With this, we have unlocked and shown that we can initiate the process of judicial reform in BiH", Grubeša said./ibna