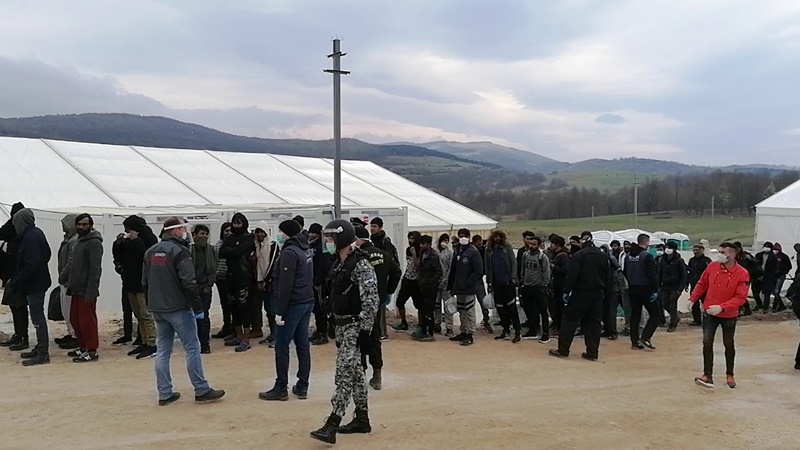 The European Commission adopted a €20 million assistance package to support Bosnia and Herzegovina in managing migration flows. This brings the total of EU pre-accession assistance in this field to €50.2 million and comes in addition to the EU humanitarian aid of €10.3 million.
As it was confirmed from the EU Delegation to BiH, the EU support will ensure accommodation and food for refugees, asylum seekers and migrants, improve protection standards and living conditions as well as access to social and health services, including education for children. The EU funding will also enhance the capacity of Bosnia and Herzegovina's authorities for identification, registration and referral to services for refugees, asylum-seekers and migrants, and for border control and surveillance.
As part of the humanitarian and operational response to COVID-19, EU funding will continue supporting the recently established emergency temporary facility in Lipa and providing accommodation, food, hygiene, medical care and basic services for up to 1,000 persons outside accommodation centres in the Una-Sana canton.
"The EU expects Bosnia and Herzegovina' authorities to  make full use of the EU funding, by ensuring effective coordination in managing migration and asylum, in particular by taking over the management of the EU-funded temporary reception centres and identifying further suitable publicly owned facilities. The respect of domestic law and international obligations concerning the treatment of refugees and migrants, notably minors, together with the safe and unhindered operation of humanitarian partners, are prerequisites for the continued EU support to Bosnia and Herzegovina in this area", noted the EU Delegation.
The EU has been assisting Bosnia and Herzegovina in the area of asylum, migration and border management with €24.6 million since 2007. Since January 2016, Bosnia and Herzegovina also benefits from the regional programme 'Support to Protection-Sensitive Migration Management' worth €14.5 million for all the Western Balkans and Turkey. In addition, under the Instrument contributing to Stability and Peace (IcSP) of the EU Commission Service for Foreign Policy Instruments (FPI), Bosnia and Herzegovina will be among the main beneficiaries, together with Serbia, of a regional action of €8 million to address the challenge of COVID-19 amongst migrants, asylum seekers. The EU has also deployed a Senior Expert to facilitate Bosnia and Herzegovina's authorities in migration management coordination./ibna