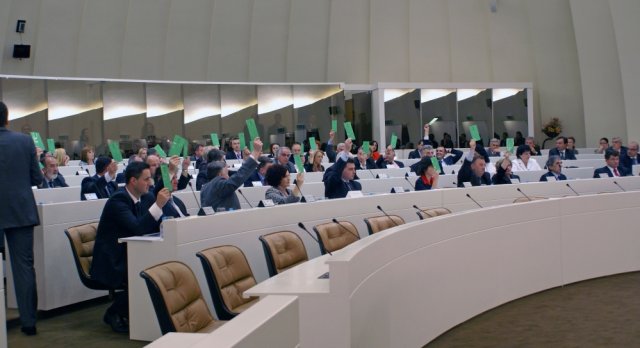 Banja Luka, March 24, 2015/ Independent Balkan News Agency
By Mladen Dragojlovic
Leaders of RS ruling Alliance of independent social democrats (SNSD), Milorad Dodik, and biggest opposition Serb democratic party (SDS), Mladen Bosic, have not had a meeting in several years, but it seems that they will meet – in court.
Dodik sued Bosic for defamation, since opposition leader claimed Dodik lied to the citizens about the referendum on RS independence, the return of responsibilities of judiciary system from BiH on the level of entity institutions, the revision of the privatisation of companies and the fight against crime.
"Somebody who stole hundreds of million BAM, is not a person who can say I am a liar. Among other this things, Dodik sued me because I said that he stole this money in several big affairs and put that money in his pocket and pockets of his close relatives and political collaborators. I have evidences of this corruption and I will be glad to present it to court", Bosic told the media.
He added that Dodik and his SNSD created corrupted political system in RS, which produced incredible nepotism. The fact that no one from the ruling party and RS institutions has yet to be convicted of this crime, Bosic argued, doesn't mean that they are not guilty, but rather that they exert a big influence on RS Prosecutor office, which in this way has become a part of the corrupted system.
"I hope that the Court in Banja Luka will be fair in this case. I think that this will be my chance to point out that in RS today it is common practice for high ranked officials to employ their children and relatives on the managing positions in important companies", Bosic added.
He emphasised that, as evidence in the court, he will submit Dodik's property card and demand for information on the tax Dodik payed for his income. Bosic said that this will show that Dodik's property has no origin and is acquired in an unlawful manner.
One day after Bosic's speech to the media , on Tuesday, SNSD leader and RS president Milorad Dodik said that Bosic's statements put pressure on the Court.
"The manner of his speech and comments about future court process, in which he must prove that I stole millions of BAM, is the best indication of Bosic's character and SDS as a political party", Dodik said to the media.
He added that he didn't sue Bosic because of the allegations about the privatisations, referendum or fight against crime, because those are serious political questions, and Bosic as leader of opposition party is entitled to his own opinion. Dodik said that this is a common thing in democratic society.
"But, his claim that I stole millions is not a political stance. That is defamation and he must explain that in the courtroom. It is not true, as he said, that I sued him for his opinion, I sued him for defamation", Dodik emphasised.
The first court hearing in this case is scheduled for April 8.
photo: novosti.rs