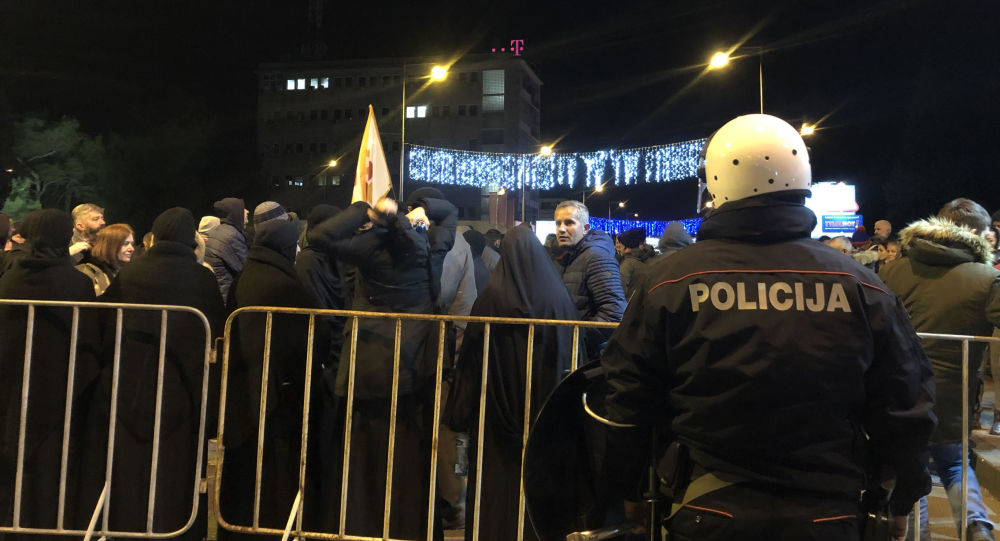 Montenegro lawmakers adopted last night the disputed Law on freedom of religion, despite the protests of Orthodox believers across the country, as well as opposition MPs – mainly from Serb parties – in parliament.
The adoption was followed by serious incidents in the Parliament building, including the explosion in the hall, caused by an "unknown explosive device". There were no injuries, so most probably it was firecracker that was smuggled in the building by some of the Serb deputies.
After passing of the bill, the Serb deputies came to the Chairman desk and began to smash microphones and pcs. This resulted in the arrest of said deputies and the parliament Speaker removed them from the sessions in the next two weeks.
The voting was not prevented even at the request of the head of the Serb Orthodox Church Metropolitanate of Montenegrin and Littoral, Amfilohije, who met with Montenegrin PM, Duško Marković, during the Parliament session. Amfilohije asked for a delay in the vote until after the Orthodox Christmas holiday, but his request was rejected.
The protest in the Parliamentary hall was just a part of the problem, as the Orthodox Church believers and their supporters blocked the streets of Podgorica and several other cities in Montenegro, while some roads were also blocked. During the morning, police said that most of the blockades were removed, but the unrest is not over yet.
Serb Orthodox Church Metropolitanate of Montenegrin and Littoral announced that all responsibility for protests and future events is on the MPs and Montenegro president, Milo Đukanović.
The problem with the bill is that it determines the property of the religious communities as state property. Serb Orthodox Church for centuries has ownership on monasteries in Montenegro, but that right is disputed by the new Law. What's interesting is that still there is no sharp reaction from Belgrade and Serb Orthodox Church Patriarch, Irinej. The Holy Synod issued an announcement condemning the Law and supported the priests and believers initiative for withdrawal of the Law from the Parliamentary agenda.
"We are against the draft Law by which representatives of the authorities in Montenegro want to forcibly take away churches and monasteries and the properties from the Metropolitanate and Dioceses of the Serbian Orthodox Church, and whose provisions would abolish the inalienable right of every individual to freedom of religion and conscience", said the announcement.
Also, except for a few statements that condemned the new law, there have been no reactions from Serb politicians.
It is worth noting that the turbulence in "small" Montenegro can have much wider implications. Serbia's reaction is still unknown but on could surmise that Aleksandar Vučić will not be happy with the development. What's more, Montenegro is a NATO member and the Alliance at the moment does not need trouble in any member state, even one as small as Montenegro./ibna