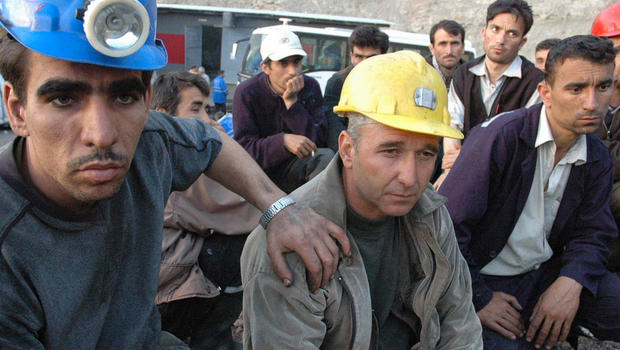 Many dead – 200 trapped 
By Manolis Kostidis – Ankara
One of the biggest mine accidents in Turkey occurred on Tuesday afternoon.
Early reports indicate that 17 miners were killed by the fumes and burns. At least 200 others are still trapped in the coal mine galleries of Manisa in western Turkey. According to turkish media, the explosion was caused by a short-circuit in the gallery located at a depth of 2000 meters, followed by a big fire.
The turkish authorities refrain from giving details on the number of victims, while the turkish media report that there are at least 5 dead, but the MP of the ruling AKP in Manisa, Muzaffer Yurttaş, said that 20 workers have lost their lives.
The first rescue teams that arrived are trying to extinguish the fire inside the mine and free workers from the galleries .
The mine in which 6,500 people are working is owned by the company "Soma Madencilik".
The Turkish television network NTV, says that the explosion in the coal mine has interrupted power supply. Late in the evening the oxygen supply in some galleries had been restored. All of the mine's elevators are out of order, which causes difficulties in the evacuation of the workers.
At the point of explosion however, it is certain that the fire, which has yet to be extinguished, is causing a lack of fresh air. Rescue crews from Istanbul , Ankara and the city Zonguldak (there are many mines) are rushing to Magnesia to extinguish the fire and assist in the evacuation efforts.
The mayor of Soma, Bahattin Atci, where the mine is located, said that 30 workers have been transported to hospitals and are being treated with severe respiratory problems.
The Turkish Energy Minister, Taner Yildiz, rushed to the point of the accident and has so far not given any details on the exact number of the victims. "We are providing the mine with fresh air and are try to save all the workers, but unfortunately we have casualties", he stated.
The relatives of the miners blame the mine owners for inadequate security measures inside the galleries.
Members of the Republican People's Party stressed that 10 days ago the Parliament rejected the opposition's demand for a committee to investigate the working conditions in this mine. "Every three months we have had an accident . The mine had closed for a few days, because there had been 10 consecutive accidents", says the MP of the CHP, Özgür Özel.
The largest mine accident in Turkey happened in 1992, when 270 people were killed in the mine of the town Zonguldak, in northern Turkey.
Latest information speak of 201 dead and 200 trapped.
Erdogan has cancelled his official visit to Albania that was to take place on Wednesday, because of the accident.