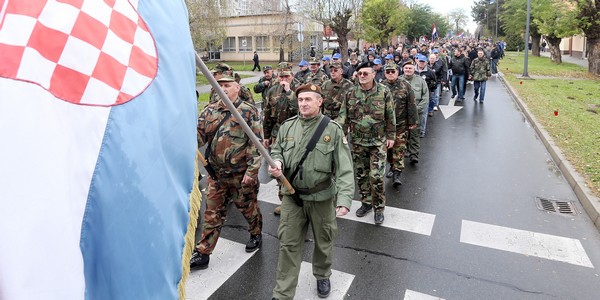 By Marija Avramovic – Zagreb
Croatian media gave their full attention today to the anniversary of the fall of Vukovar, especially after last year's blocking of the city's streets by representatives of The Committee for the defence of the Croatian Vukovar, an informal organization of some veterans.
After the performance of the anthem in front of the city's hospital, three separate columns went on their way to the Memorial Centre, a move which could be characterized as tension raising within an already  disturbed public.
This year's ceremony took place with the slogan 'Vukovar, a place of special reverence', which this city certainly is, hence the presence of the entire national leadership, the opposition, representatives of the diplomatic corps, the Catholic Church, political parties and many others.
Tens of thousands of people were in Vukovar today to honor soldiers and civilians who had been killed in 1991 during the Homeland war.
Prime Minister Zoran Milanovic previously announced in an interview for 'Novi list' that he would be in the remembrance column and that he hoped for the best, stressing that "the meaning of the remembrance column is walking in it, not the protocol as such".
The situation in Vukovar was quiet and no incidents or disruption of public peace and order occurred despite the big crowd, alongside the three columns, who went to the cemetery to pay their respects to the victims of the attack on Vukovar.
Minor individual outbursts took place, just like it happened last year, and like it was at the celebration of the 'Storm', which were directed to the President and the Prime Minister but as much as one would like to blame these two for everything that happens in Croatia, this is not the case.
"I think that anyone who came today came to show honor and to bow to the heroes of Vukovar, not only to those who were killed but to the live ones, too. That's the message we need to send from Vukovar – unity and respect for these victims. Everything else is bidding and politicisation and using the city for some other purpose is something I don't want to be part of", mayor of Vukovar Ivan Penava said.
The Battle of Vukovar lasted for 87 days, 1,624 people were killed and 1,219 injured, while the city was completely devastated.
The media were overwhelmed by retelling war stories and tales of veterans' heroism, as a reminder of the recent past but also as a warning how little it takes for the language of hatred and intolerance to prevail.
The whole of Croatia gazed at Vukovar with the greatest of respect and at those who had contributed to  what it became 23 years later so it would be in poor taste to compare and emphasise anyone's words at a time like this.