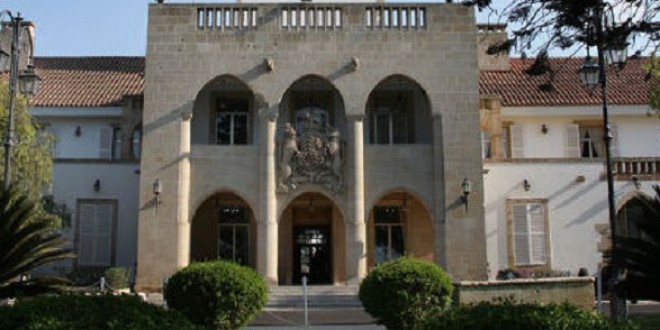 By Kyriacos Kyriacou – Nicosia
The Cyprus cabinet was reshuffled today, after centrist Democratic Party's (DIKO) decided to exit the government coalition, calling at the same time its four ministers and three Presidents of semi-governmental organisations to follow. DIKO left the coalition due to disagreements with President Nicos Anastasiades conserving the terms included in the joint declaration signed between the Greek and Turkish Cypriot sides for the resumption of the peace talks to unify divided Cyprus.
The four ministers-Defence Minister Fotis Fotiou, Education Minister Kyriacos Kenevezos, Health Minister Petros Petrides Minister of Energy, Commerce, Industry and Tourism Yiorgos Lakkotrypis refused to resign, expressing disagreement over DIKO leadership's decision to exit the government.
However, after a statement issued by the party saying that "re-appointing all four ministers of the party would be considered a provocation", the government decided to keep only Yiorgos Lakkotrypis and replace the other three DIKO ministers. It also decided to make further changes to the cabinet.
The new cabinet
Government spokesman Christos Stylianides announced on Wednesday that the director of the Institute of Neurology and Genetics Philippos Patsalis would be the new Health minister.
Education would be taken by academic, Costas Kadis, Communications and Works by economist Marios Demetriades while current minister Tasos Mitsopoulos would be moved to Defence. The other ministers are to remain in their positions. This also includes Energy Minister Giorgos Lakkotrypis.
In addition, President Nicos Anastasiades appointed Odysseas Michaelides former head of the department of control of the Communications and Works ministry as the new auditor-general, replacing Chrystalla Georghadji who is being appointed Central Bank Governor, replacing Panicos Demetriades.
Irena Georgiades, adviser to Finance Minister Harris Georgiades has been appointed as the new Commissioner for the Reform of the Public Service. She replaces Emmanuela Moushioutta Lambrianidou who resigned following DIKO's departure from the coalition. Lambrianidou is the sister of Marinos Moushiouttas, DIKO general secretary and party leader Nicolas Papadopoulos' close associate.
Anastasiades also appointed Iosifina Antoniou, head of women's organisation GODISY, as the Commissioner for Gender Equality. The post is newly created and aims at addressing issues of gender discrimination. GODISY is the official women's wing of governing party DISY.
Anastasiades also appointed Nestoras Nestoros as the Greek Cypriot representative to the Committee for Missing Persons after the resignation of Theophilus Theophilou for health reasons.
Dr. Tula Onoufriou was appointed head of the Cyprus National Hydrocarbons Company and Elena Vassiliadou as the new chief at the National Gas Public Company DEFA.
Penelope Athinodorou Mantis was appointed chairwoman of the State Fairs Authority and Angelos Loizou as the new head of the Cyprus Tourism Organisation, Kadis' previous position.