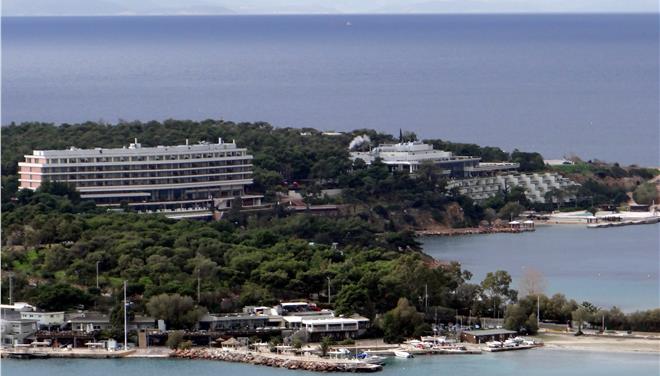 By Lefteris Yallouros – Athens
The opening of tenders on Tuesday for the sale of the "Asteras" hotel complex in the Vouliagmeni district, Athens revealed great interest as four bids were tabled in what is considered the largest deal for a hotel in Greece.
The following joint ventures tabled bids: Colony Capital, Lamda Development, Olayan Group (with TEMES) and AGC.
Lamda Development owned by the Greek shipping magnate Spiros Latsis while TEMES is owned by Greek ship owner Achileas Constantakopoulos, also owner of the Costa Navarino in Messinia, Greece.
Olayan Group is a global consortium involving TEMES with a minority share. It has strategic stakes in large corporations such as Coca Cola and banks while has invested in many Greek companies too.
Colony Capital is a U.S. company with a global presence, related infrastructure in nine countries and with a powerful investment portfolio including investment in the "Atlantic City Hilton", "Las Vegas Hilton", "Raffles Hotels & Resorts", "Fairmont Hotels and Resorts", "Swisshotel" and "One & Only Hotels & Resorts".
AGC is an investment holding company in the Middle East, based in London. It invests around the world by participating in the equity of private funds, investment companies, hedge funds and in companies investing in real estate, mainly in Europe and North America.
The overall property of "Asteras" has the potential to be further developed into a large scale integrated tourism / leisure / residential project around the existing hotels on a prime property.
The offers submitted on Tuesday will be evaluated in terms of the technical part and subsequently in terms of the financial conditions. Participants who meet the requirements of the tender will be given the opportunity to improve their offer and submit a final offer.
As anticipated, the successful tenderer will be able to turn the hotel complex into a tourist destination where high-end holiday homes can be built.
The "Asteras" complex is expected to attract offers above EUR 300 million while its further development will generate thousands of jobs boosting Greece's ailing economy. Nearly 80 pct of the complex is owned by the National Bank of Greece while the remaining 20 pct is sold by the Hellenic Republic Asset Development Fund.