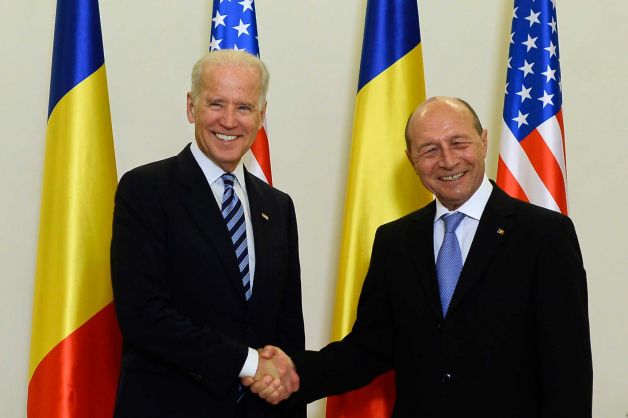 By Daniel Stroe – Bucharest
US Vice-President Joe Biden yesterday warned against effects of wide spread corruption and lauded activity of anti-graft institutions, while assuring Romania of NATO's commitment to protect its allies amid tensions in neighboring Ukraine, in statements and speeches delivered in Bucharest.
Speaking before an audience of civil society representatives, students and politicians, Biden pointed out the importance of the fight against corruption and the influence of powerful oligarchs. "Corruption is a cancer, a cancer that eats away at a citizen's faith in democracy, diminishes the instinct for innovation and creativity; already-tight national budgets, crowding out important national investments.  It wastes the talent of entire generations.  It scares away investments and jobs. And most importantly it denies the people their dignity.  It saps the collective strength and resolve of a nation. Corruption is just another form of tyranny" Biden said in the speech that wrapped up his two day visit to Romania.
Pointing to Ukraine, the US Vice-President also warned "corruption can represent a clear and present danger not only to a nation's economy, but to its very national security".  Under these circumstances, "there are nations, and we've seen it recently, that exploit corruption to exercise malign influence and undermine the very sovereignty and independence of their neighbors", Biden added, hinting at Russia. In Ukraine, he further said, "corruption literally has hollowed out their military institutions and weakened that country's very capacity to defend itself".
Biden commended though efforts done in Romania to fight corruption, despite obstacles. "Many of you, inside government and out, have been working to root out corruption for years.  And I applaud you all for your efforts.  With your help, Romania has made significant achievements in fighting corruption.  Your National Anti-Corruption Agency has firmly established its independence and sent 1,000 cases to court just since last year.  Your National Integrity Agency sent forward 6,000 cases of incompatibility -— people holding office that should be mutually exclusive -— and 50 cases of elected officials with unjustified assets" he pointed out.
His statements and firm warnings against corruption come after Romanian politicians attempted to stem a surge in the anti-corruption fight over the past year which saw high profile politicians, such as former PM Adrian Nastase, sent behind the bars for graft. Lawmakers, mayors and heads of county councils have also been arrested or placed under criminal investigation for corruption related deeds. The investigations started a panic among the politicians who sought to curb these efforts to root out graft, a social scourge which has been an unfortunate country brand for Romania over the past 24 years. The country is currently under the European Commission's supervision in terms of progress in the anti-corruption fight and reform of justice.
Biden also assured Romania of USA's commitment to protecting it in the face of a possible aggression from Russia. "One of the main reasons why I came today is to stand on Romanian soil and say what cannot be said often enough.  We will honor — we will honor Article 5 of the NATO Treaty.  It is a sacred obligation.  There should be no doubt about it.  It should not be in question.  No NATO ally stands alone.  We protect one another.  Period.  We protect one another.  Period.  End of discussion" he put it. Romania, Poland and the Baltic countries urged NATO to relocate military capabilities to the Eastern part of the alliance's territory to dissuade Russia from further aggressive moves and sought to obtain guarantees NATO stands beside them in the event of an attack from the East.