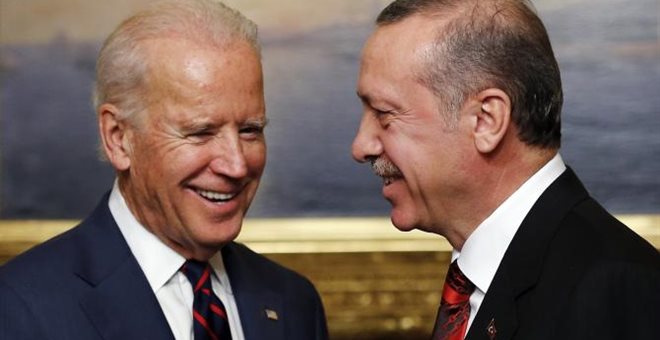 Ankara, January 25, 2016/Independent Balkan News Agency
By Manolis Kostidis
Agreement to fight the jihadists
Question mark the role of the Kurds of Syria
Intense diplomatic activity is observed in Turkey on the combating the Islamic State, the management of the migration crisis and the future of Syria.
After the meeting of the Turkish prime minister Ahmet Davutoğlu with German chancellor Angela Merkel in Berlin on Friday, US Vice President Joe Biden visited Istanbul and met both with president Recep Tayyip Erdoğan and the Turkish PM.
The main issue under discussion was the future of Syria, with Ankara opposing the participation of the Kurds of northern Syria (PYD) to the Geneva talks where the future of Syria will be discussed. The two men however, seem to have a common line against the Islamic State.
"We know that it would be better if we could reach a political solution, but we are prepared – if this does not prove feasible – to have a military solution in our attempt to eradicate the Islamic State", Biden stressed.
Officials of the Kurdish Democratic Union Party (PYD) said that the talks would fail if the Kurds of Syria are not represented.
Washington is pushing for their presence at the talks, but Davutoglu reportedly vetoes this scenario.
Davutoglu reiterated Turkey's position that the military wing of the PYD is part of and sponsored by the PKK.
Turkey believes that the Kurdish YPG (the military wing of the PYD) in Syria constitutes a threat to Ankara. Biden condemned the PKK, but did not say anything negative for the PYD.
The US foreign secretary had a telephone conversation with his Turkish counterpart Mevlut Çavuşoğlu on this issue on Sunday and it seems that until the last minute the dispute will continue.
The fight against terrorism and the management of the migration crisis were also among the issues discussed, with Ankara insisting that to solve the crisis there must be put an end to the war in Syria.
Kotzias in Istanbul
In this framework, the Turkish foreign minister Mevlut Cavusoglu will meet with his Greek counterpart Nikos Kotzias in Istanbul on Monday January 25, to discuss the migration crisis and the developments in the Cyprus problem.
A gendarmerie officer was arrested in Izmir, who allegedly received from traffickers USD 100 per refugee or 3000 per group of refugees who were trying to cross into Greece, allowing traffickers to operate freely.