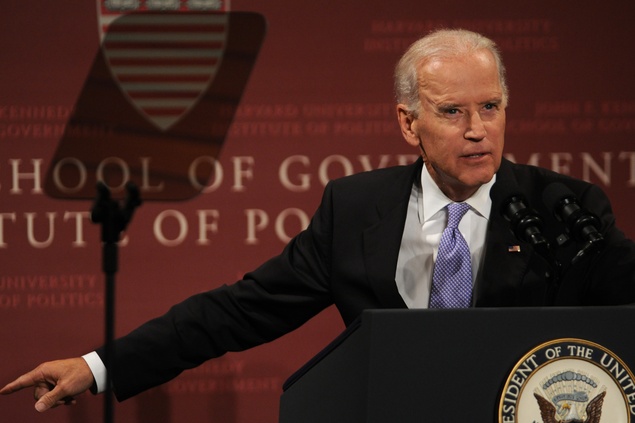 Biden stated that Ankara supported the jihadists
He later issued an apology from Erdogan
By Manolis Kostidis – Ankara
A speech by Joe Biden, who accused Ankara that reinforced the jihadists in Syria, came close to "torpedoing" the amerikan-turkish relations.
The calm reaction of the American vice president who withdrew the said statements, calmed the tense climate that prevailed in the weekend between Ankara and Washington.
Biden, in his speech at Harvard, accused Ankara that because of hostility towards president Assad reinforced the Islamist insurgents with millions of dollars and thousands of weapons. In addition, the American vice president invoked the name of the Turkish president!
"President Erdogan, who is an old friend of mine said: 'you were right. We let too many people through. Now we are trying to seal the border".
Biden did not fail to point out that the creation of ISIS main culprits were the allies of the USA in the area, essentially photographing Ankara. "Turkey, Saudi Arabia and the United Arab Emirates, which focused on the overthrow of Assad, and in a Sunni – Shiite war, poured hundreds of millions of dollars and tens of thousands of tons of weapons into anyone who would fight against al-Assad", he added.
By listening to these declarations Tayyip Erdogan has denied Biden's allegations and said that "foreign warriors never passed from our country to Syria. No one can prove such a thing. I was sorry to hear these statements. I never told them 'we were wrong and you were right'. It is unacceptable for Mr. Biden to make such statements. If he said something like that he should apologize".
For the sake of not causing crisis in sigh of a possible intervention by Turkey against the jihadists, Biden called the Turkish president giving explanations for his statements, followed by an announcement from the White House that said: "The vice president apologised for any implication that Turkey or other allies and partners in the region had intentionally supplied or facilitated the growth of ISIL or other violent extremists in Syria. The United States greatly values the commitments and sacrifices made by our allies and partners from around the world to combat the scourge of ISIL, including Turkey".
Bombshell explodes in the turkish soil
Five people were injured in the Turkish border town of Suruts from a bombshell launched from the Syrian town Kobani. It is not clear whether the bomb was launched from the Kurds or the jihadists. During last week, many shells have fallen into the turkish territory as the heavy fighting between the Kurds and the jihadists takes place just 5 km from the turksih-syrian border.
The turkish armed forces are not fired back, however, powerful forces of the turkish army have developed at the border.