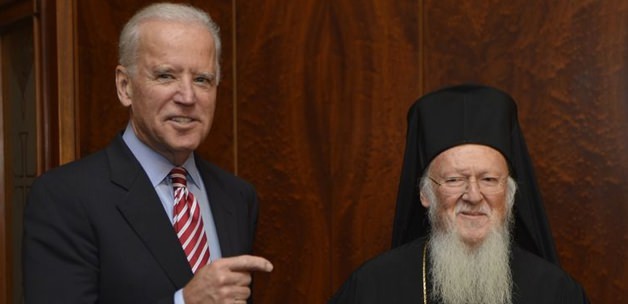 By Manolis Kostidis – Ankara
Before his departure from Istanbul Joe Biden visited Fannar and met with Ecumenical Patriarch Bartholomew. The area around Fanar was blockaded by the Turkish police and extraordinary security measures were taken.
The meeting between the two men lasted two hours and they reportedly discussed the issue of the reopening of the Theological School of Halki, the issue of the Christian Orthodox minority in Istanbul, as well as the situation of Christians in the Middle East. Fanar considers of vital importance the reopening of the Theological School for the survival of the Ecumenical Patriarchate in Istanbul.
Another important topic of discussion was the situation of the Orthodox Church in Ukraine, where lately the Ecumenical Patriarchate has disagreements with the Patriarchate of Moscow and with developments in the Crimea and eastern Ukraine the situation becomes even more complicated.
The American vice president entering Fanar told reporters that the Ecumenical Patriarch "is a man who does what he says".
Biden had previously stated that the personality of the Ecumenical Patriarch Bartholomew impresses him, as much as he had been impressed by that of Nelson Mandela.
The US vice president, before leaving Fanar, visited the patriarchal church of St. George, where he was guided by Mr. Bartholomew.