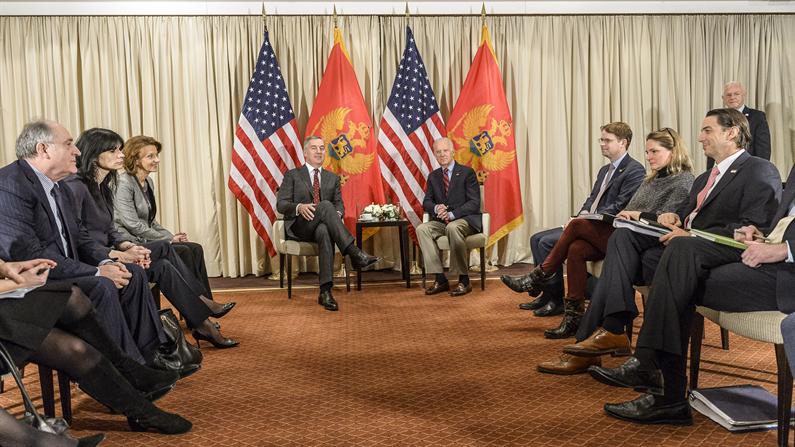 Podgorica, February 9, 2015/ Independent Balkan News Agency
By Adnan Prekic
The United States continues to support Montenegro's aspirations for membership in NATO, said US Vice President Joseph Biden after his meeting with Montenegrin Prime Minister Milo Djukanovic. Montenegro is waiting for, as it was previously announced until the end the year, NATO member countries to reach invitations for membership. Vice President Biden stressed that the United States will assist Montenegro in overcoming the challenges in the crucial areas for further democratic progress and full integration, primarily in the rule of law and strengthening of public support.
Montenegro and the United States have established strong relationship based on mutual trust and shared values, Montenegro's Prime Minister Milo Đukanovic and US Vice President Joseph Biden agreed at the meeting which was held earlier today on the sidelines of the Munich Security Conference.
Prime Minister Milo Đukanovic voiced his satisfaction with the dynamic dialogue developed between Montenegro and the United States, as well as the attention which the US administration and Vice President Biden pay to the Western Balkan's issue.
He also drew attention to the stable democratic and economic development which Montenegro has achieved and its full commitment to European and Euro-Atlantic integration. The Prime Minister said that NATO membership invitation is the country's key strategic objective in 2015 and thanked Vice President Biden for the continued support the United States provide to Montenegro in that regard.
US Vice President underlined that the United States remain a steady and honest partner of Montenegro, appreciating its responsible policy that contributes to the stability and prosperity of the region. In that context, he voiced willingness to further support Montenegro's development and its Euro-Atlantic aspirations, highly assessing the results that the country achieved in the accession process.
Both sides have pointed out the importance of NATO enlargement policy and sending of the membership invitation to Montenegro in the context of strengthening regional stability.
Continuation of the enlargement process and Montenegro's accession to NATO are significant for the Alliance as well as for the United states and the region, Biden concluded.