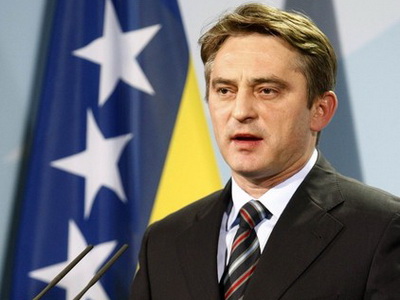 By Medina Malagić – Sarajevo
Yesterday, Chairman of the B&H Presidency Željko Komšić held a press conference for the end of 2013, where he spoke of the missed chances that B&H in making strides towards EU and NATO integration.
In his address, Chairman Komšić said that these are chances that arise in certain "historical processes, and history does not give two chances". As a result of the missed oportunities, particularly the failure to agree on the implementation of the ' Sejdić-Finci' case, the path of B&H towards EU and NATO integration has been delayed for another several years.
Since 1995, B&H has been in a protracted state of stagnation, marked by high unemployment rates, rampant corruption and a highly ineffective and complex political structure whose foundation promotes fragmentation along ethnic lines. Recently, there were students protests throughout B&H as a result of the country turning down an EU-funded educational program called ERASMUS+. The EU has provied fewer funds for B&H for the pre-accession funds of the B&H National Program due to lack of progress of the country. In addition, the annual summit that was held in Brussels this month of B&H politicians and political party representatives resulted in no internal consnsus on the 'Sejdić-Finci' case.
We recall that the 'Sejdić-Finci' case was a 2009 ruling at the European Court of Human Rights in Strasbourg, which is one of the necessary implementations for B&H to continue along the path of European integration.
Chairman Komšić also specified what are the actual problems in this country. "Everything that happned in B&H in 2013, as well as in previous years, actually shows that it is not true that Bosniaks, Serbs, Croats and the Others are a problem in B&H. The problem of this country is something entirely different, the way of functioning of political life, the way government is managed, and systematic corruption is tied with this".
The ongoing political, economic and social stagnation in B&H, which is coupled with the increasing impatience of the EU and followed the loss of EU funds for B&H's pre-accession assistance, can only be indicative of the decreasing importance of B&H on the international scene, but which at the same time can potentially be disastrous for B&H in the future. This is occuring at a time when countries in the region have made more significant strides towards EU integration, while their neighbor B&H remains in nearly the same position, its politica leaders unwilling to propel the country forward.
What direction B&H chooses to take in 2014, or whether it will choose to take a different step, cannot be determined as of yet, but, as Chairman Komšić made sure to add in his address, the 'Sejdić-Finci' issue will not go away and must be addressed eventually.