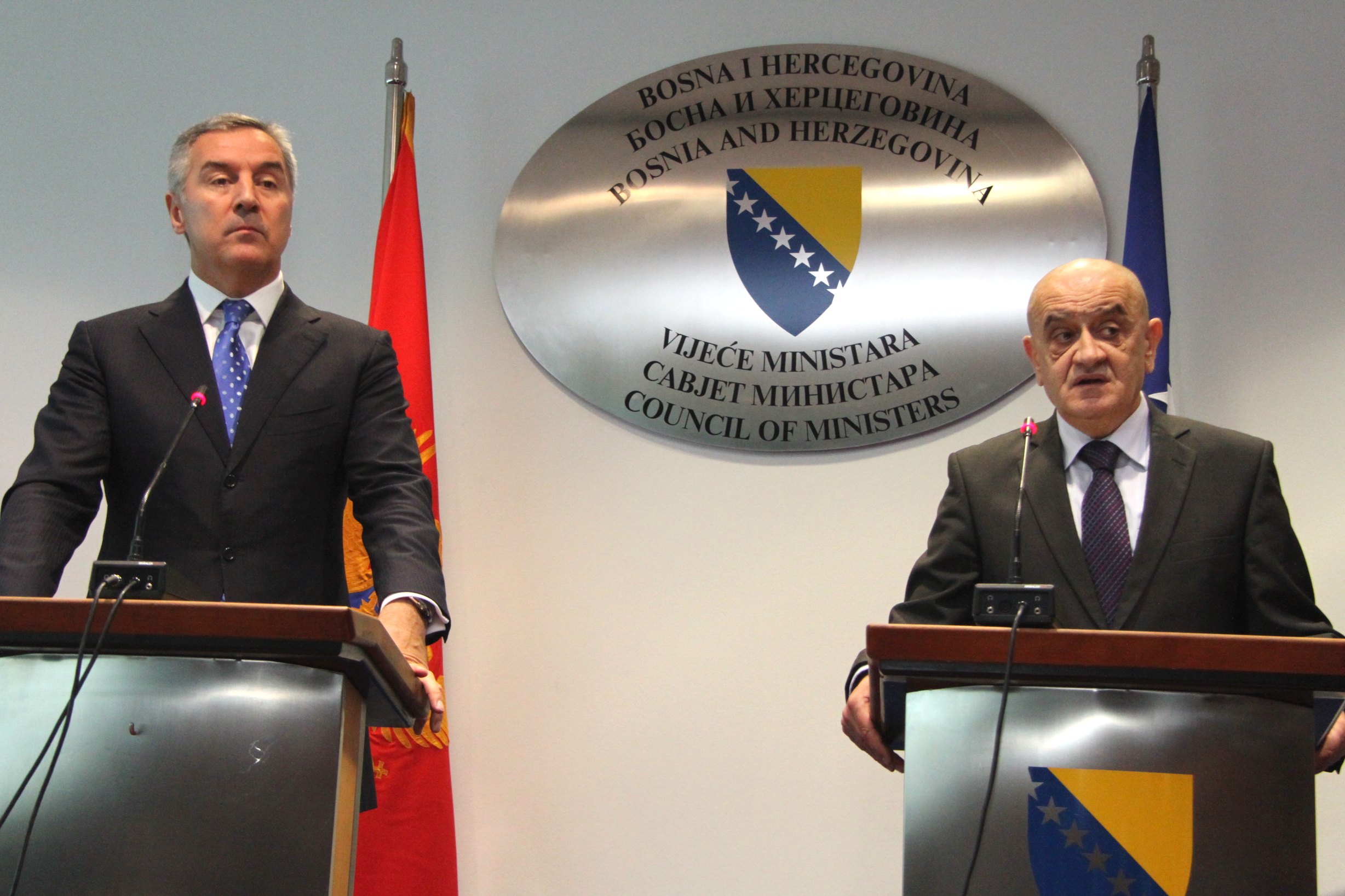 By Liljana Meshaj – Sarajevo
Prime Minister of Montenegro Milo Djukanović is on an official visit to B&H today. The Chairman of B&H Council of Ministers Vjekoslav Bevanda welcomed this morning Djunaković with the highest state honors. The official welcome was followed by a meeting between the Chairman of Council of Ministers of B&H with the Prime Minister of Montenegro.
The agreement on the interstate boarder issues between B&H and Montenegro is signed today. In this way, B&H and Montenegro became the first two countries of the region to have completely resolved the boarder issues. The agreement is about the 268 kilometers boarder line. "We are pleased to say that we have signed an agreement on the interstate boarder and now it will have to pass the verification process but I am confident that it will be all right", said Bevanda.
Djukanovic emphasized that signing of this agreement is of great importance for these two countries but also for the region. "This is the first such agreement between the countries of former Yugoslavia and has a symbolism that B&H and Montenegro has come to this step. I hope that we will manage to have similar solution with the other countries of the former Yugoslavia", said Djukanović.
Signing of this agreement besides resolving many boarder issues is also an indicator of good the relations between the two countries. This is a step forward toward meeting the European requirements in terms of establishing good neighbor relations for the peace and stability of the region.
Djukanović and Bevanda agree that there is room for the improvement of the economic cooperation and is very important to identify and promote the implementation of infrastructural projects that are critical to economic development. In this regard they discussed the Adriatic-Ionian highway project. Both interlocutors agreed that all necessary steps should be taken for the implementation of this project.
Djukanovic added that it is very important to continue the implementation of the Adriatic oil project.  "Along with these two very important projects, we also discussed the improvement of the road infrastructure between our countries, more specifically the road between Foča and Plužine, and the railway from Nikšić to Čapljina, which will improve the traveling conditions of the citizens of our countries, but also the quality of the traffic, linking Bosnia and Herzegovina and Montenegro in the network of regional and European corridors", stated Djukanović.
As foreseen by protocol, Djukanović will meet today with the Chairman and members of B&H Presidency, as well as with the Chairman and Deputy Chairman of both Houses of B&H Parliamentary Assembly, followed by a meeting with Deputy Chairman of Council of Ministers and B&H Minister of Foreign Affairs.