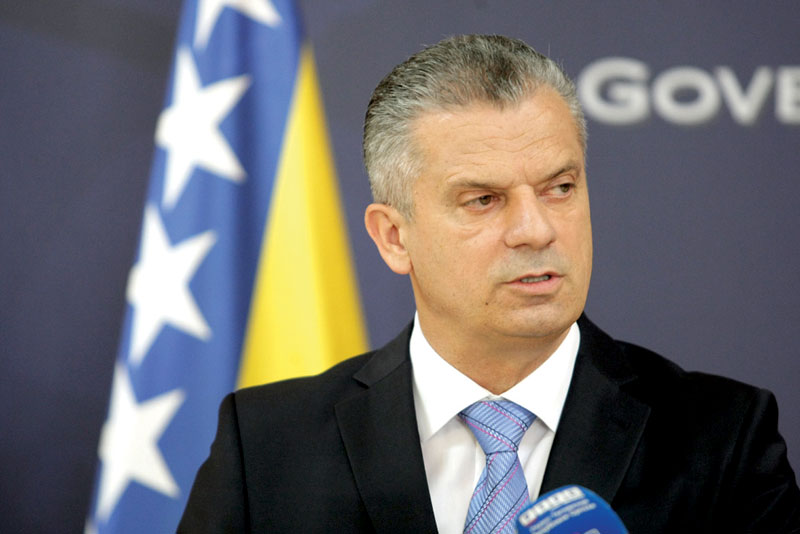 By Medina Malagic – Sarajevo
Yesterday, the B&H Minister of Security, Fahrudin Radoncic, was dismissed from this position.
The B&H House of Representatives in the B&H Parliament decided this yesterday with a sufficient majority.
28 deputies voted for the dismissal of Minister Radoncic, nine voted against and 5 abstained from voting. The political parties of B&H that voted for his dismissal were SDA, SDP, SNSD, PDP and SDS. The political parties that voted against his dismissal were HDZ B&H and HDZ 1990, members of former Minister Radoncic's party SBB and deputy of the Croatian Party of Rights Zvonko Jurišić.
The proposal for Radoncic's dismissal was initiated by members of SDA, who alleged that the Minister did not do what was in his jurisdiction to protect citizens and government property during the protests that began one month ago, which culminated in the burning of the B&H Presidency building, B&H Archives and several buildings of cantonal governments in cities throughout B&H during the course of one day.
However, former Minister of B&H Security Radoncic claims that his dismissal from office was a purely political act, initiated by political parties for which citizens have expressed contempt and distrust, and which have failed to address the concerns of citizens.
Former Minister Radoncic, over the course of the last month, has repeatedly made statements expressing support for the citizens' protests, that his party, which is part of the ruling coalition, was not involved in the corruption schemes of other political parties and politicians in B&H.
Former Minister Radoncic has based his platform since he took office as Minister of Security on fighting corruption and crime in B&H.
However, during the protests in cities in B&H, citizens held banners where they demanded the resignation of several top politicians in B&H, including Radoncic.
At the ongoing Plenums taking place in several cities throughout B&H, citizens have made clear that political parties are not welcome, and that the foundation of these citizens' assemblies are independent with no political party alignment, and is composed of citizens that demand actual change.