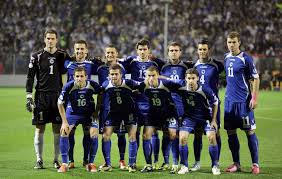 By Liljana Meshaj – Sarajevo
Football representation of B&H has been training in Sarajevo ahead of their departure to US and later on to Brazil. They had their last training yesterday in Hrasnica, Sarajevo, where their fans greeted them and wished them luck on the World Championship in Brazil.
B&H football national team, the so-called "Dragons", travel today to the US. A press conference took place at the SarajevoAirport before their departure. They will continue preparations for the World Championship 2014 that will take place in Brazil.
The "Dragons" will play two friendly games ahead of the World Cup. They will play with Ivory Coast on 30 May, in St. Louis and against Mexico, on 3 June in Chicago.
Coach Safet Sušić and the captain Emir Spahić for the last time addressed the media in B&H, after having completed the first part of preparation yesterday in Sarajevo.
"The players have come prepared. They have participated in championships. They have played difficult games. It was important that they rest for a while in order  to keep going on. We have a lot of players and I am convinced that we will not be disappointed", said the coach of the B&H national team Safet Sušić.
He also added that he did not expect the large number of media attending this press conference. "These players, with whom I have been training since the first day, are ready to start the World Championship today. We had small problems in regard to the injury that Ermin Bičakčić has. We did not want to risk it and I expect that we all be ready for the matches at the World Championship.  The atmosphere is great and it is with enthusiasm that we travel to Brazil", said Sušić.
The captain, Emir Spahić, briefly addressed the media and he expressed his satisfaction about the training and the atmosphere. He stated that "We are leaving B&H today, but we carry it in our hearts", said the captain of B&H representation.
The Dragons will travel on 6 June to their base in Guaruja, a city island located 90 kilometres from Sao Paolo, where they will be staying during their participation in the World Championship 2014 in Brazil. They will have the final preparations and a final friendly game with Santos' second team on June 9.
B&H will play as part of the Group F at the World Championship. They will play with Argentina on June 15 in Rio de Janeiro, with Nigeria on June 21 in Cuiaba and with Iran in Salvador on June 25.