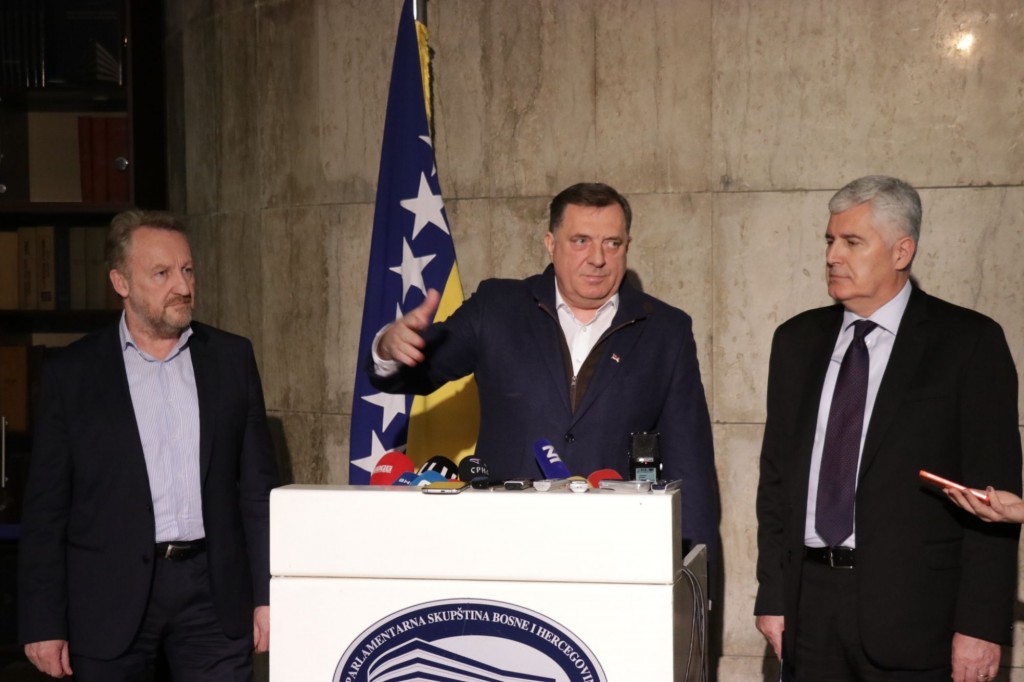 Lideri SNSD-a Milorad Dodik, HDZ Dragan Čović i SDA Bakir Izetbegović održali su još jedan sastanak o uspostavljanju vlasti na državnom nivou i dogovorili se da predsjedavajući Vijeća ministara bude imenovan u roku od sedmice, a Vijeće formirano do kraja mjeseca.
Dodik i Izetbegović su izjavili da će stranke definisati princip kojim bi svi mogli biti zadovoljni. Nakon sastanka, Dodik je medijima rekao da bi predsjednik Savjeta trebao biti Srbin.
On je dodao da postojeći konsenzus o putu u EU nije sporan, a nije ni konsenzus u pogledu mehanizma koordinacije. Dodik je naglasio da uslovljavanje formiranja Vijeća ministara usvajanjem Akcionog plana za članstvo u NATO / MAP / nije bilo racionalno, i dodao da to pitanje neće nestati samo zato što Republika Srpska smatra da stvari moraju biti drugačije.
Lider SDA Bakir Izetbegović izjavio je da nije postignut dogovor o aktivaciji MAP-a.
"Republika Srpska definitivno ima političko pravo i politički stav prema MAP-u; ona mora samo da učini djelotvornu preko institucija na državnom nivou. Usvojili smo nedvosmislene zakone, usvojili smo strategije MAP-a i MAP-a, godišnje planove i slično," rekao je Izetbegović. Predsjednik HDZ BiH Dragan Čović izjavio je da postoji mnogo tehničkih detalja koji se moraju implementirati kako bi se do kraja marta uspostavilo Vijeće ministara.
Čović je rekao da je to možda previše optimistično, ali da je neophodno da se tri političke opcije, koje pregovaraju o formiranju Vijeća ministara, dogovare o kratkoj izjavi u naredna dva do tri dana.
"Ako se tri političke opcije usaglase oko izjave o onome o čemu se danas raspravljalo, nema nikakvog razloga dane dođe do imenovanja predsjedavajućeg Vijeća ministara BiH u narednih dvadeset dana, kada istekne zakonski propisani rok ", kazao je Čović novinarima.
Rekao je da su razgovarali i o drugim pitanjima naglašavajući da je potrebno što prije formirati Vijeće ministara kako bi se moglo raditi na ekonomskim reformama, saobraćajnoj infrastrukturi i drugim pitanjima.
On je izrazio nadu da će se partneri međusobno razumjeti u vezi sa raspodjelom ministarstava kako bi tamo postojala ravnoteža i u pogledu ambicija SDA, HDZ-a i SNSD-a.