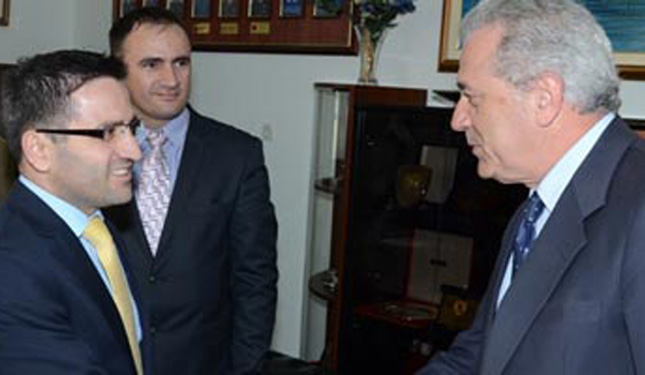 Skopje, May 8, 2013, by Naser Pajaziti-A meeting will take place today in Athens between the Minister for Integration of FYRO Macedonia, Fatmir Besimi and the Greek Minister of Foreign Affairs, Dimitris Avramopulos.
This meeting has sparked debates and comments in Skopje and Athens, especially in the local media due to the level and the format of the meeting between an Albanian Minister of the Skopje governing cabinet and the head of Greek diplomacy, where the focus of the talks will be the name dispute.
The cabinet of minister Fatmir Besimi states that this meeting will discuss over the Euro Atlantic integration issues of the country and the bilateral relations between the two neighboring countries. Besimi hasn't declared anything as to whether he will announce to the Greek diplomat the positioning of the government about the recent proposal of the intermediary Mathew Nimic on the name dispute, but said that this issue will be one of the main topics of the meeting. Besimi considered the meeting with the Greek authorities as important at a time when the June summit of the EU Council is only a month away and where the member countries will decide whether to grant or not this year the date of the start of negotiations with the EU.
Newspapers in Skopje have written today that Besimi is a member of the governing cabinet from the Albanian political party BDI and he's considered to be a composed politician. A few days ago, he has met with the Greek counterpart Avramopulos, at a time when they were ministers of defense.
Greek newspaper "To Vima" has commented the meeting, underlining that through this meeting, Athens is seeking communication channels with Skopje, in an attempt to find a solution about the name dispute after the resolved positioning of Prime Minister Nikola Gruevski. /ibna/