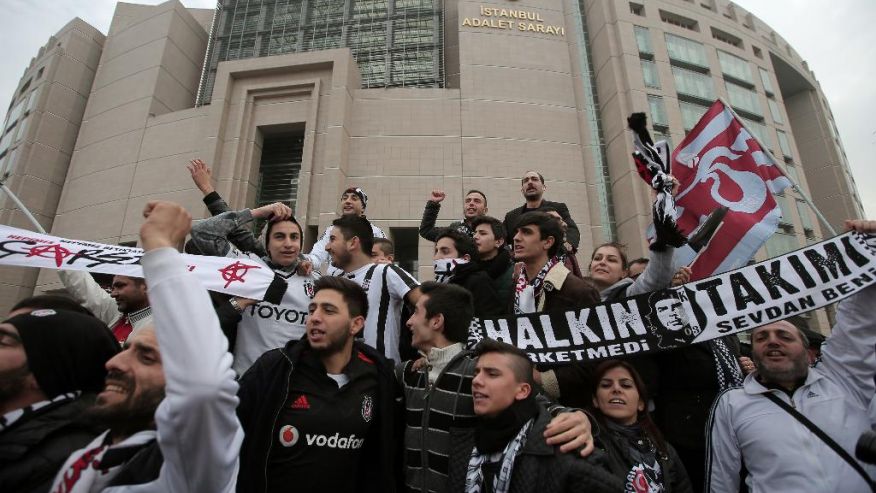 Ankara, December 16, 2014/ Independent Balkan News Agency
"If we had that kind of power we would have won the Championship", reply the fans
By Manolis Kostidis
The trial of the 35 members of the organised fans of the Turkish team Besiktas for their active participation in the events of Gezi in June 2013, has began.
The prosecutor accuses the fans of the Turkish team, who call themselves "Çarşı", for "formation of a criminal organisation and a coup attempt", seeking the imposition of a life sentence.
"It's the first time in the world that football fans are accused of a coup; it's unthinkable", said one of their lawyers, Efkan Bolac.
"If we had the power to make coup in 2013, we would have taken the championship", said one of the defendants, Cem Yakışkan. The trial will continue in the coming weeks.
Another trial draws Media interest in Turkey, concerning four children, aged 12 to 15 years, who are on trial for writing slogans on the walls against Erdogan during the Gezi events. The trial was postponed, but the prosecutor considers the Turkish Prime Minister to be a victim in this case, as on the walls of the court building of Dardanelles, the children had written the slogan "thief Tayyip".
The events of Gezi had started in June 2013 with the mobilisation of environmentalists, who opposed the destruction of the Gezi park, in Istanbul's Taksim Square.
After the violent intervention of the police forces, the mobilisation turned into a political protest against the Turkish government of the at the time Prime Minister Recep Tayyip Erdogan, who is currently President of Turkey.
Erdogan argues that the riots were organised by "foreign centers" that were aiming to overthrow the Turkish government.
The clashes with the police resulted in at least eight people losing their lives and about 8,000 others injured.