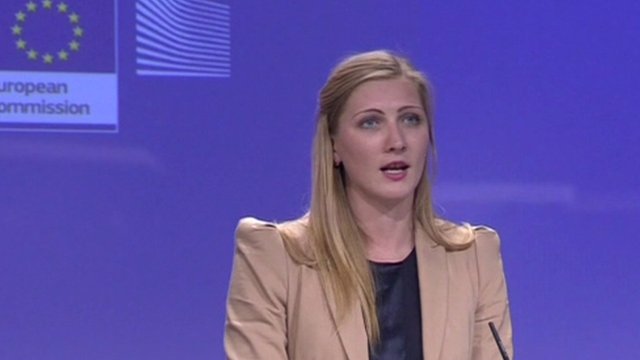 Athens, September 6, 2016/Independent Balkan News Agency
By Spiros Sideris
The Dublin Regulation for refugees is being reviewed, but until that happens, the Greek authorities should implement the existing one.
With this vague answer responded the representative of the Commission responsible for immigration, Natasha Bertaud, when asked to comment on statements by German officials on the return of asylum seekers from Germany to Greece.
Bertaud said that by the end of December  Greece should revert to the current Dublin Regulation, as currently for the country there is a suspension of Dublin since 2011.
"Greece must return to Dublin standards and be an integral part of the system", she noted, adding that in the coming months the Commission will publish a progress report.
She recalled that Commissioner Dimitris Avramopoulos has sent letters to the EU, seeking to accelerate the absorption of refugees who are in Greece and are eligible for relocation.
She admitted that the resettlement programme progresses very slowly and added that on September 2 40 refugees resettled from Greece to Finland and in the previous days there were relocation to France and Cyprus.
The statements of the German Interior Minister
In the interview with the newspaper Welt am Sonntag, Interior Minister Thomas de Maizière did not make any new statements but merely reiterated his earlier positions, said the ministry spokesman Tobias Plate.
Desire of Germany is for the Dublin Regulation to be applied again, in particular as regards the regulation for the return of refugees in Greece that is no longer applicable since 2011.
Given that the regulation is not in effect after a decision of the European Court of Human Rights, Greece "does not violate" the arrangement as far as the German ministry is concerned.
According to the representative of the German Interior Ministry, the "desire" of Berlin for returns under the conditions mentioned "shares" the deputy minister for Migration Policy Yannis Mouzalas.
Plate left open when the returns will begin. This will depend on the situation in Greece and the assessment that will be made by the European Commission and other EU member states.
Regarding the Relocation Programme Berlin accepts the Greek criticism that the agreement is not being adequately implemented by Member States. This criticism applies to Germany as well as admitted the representative of the Interior Ministry.