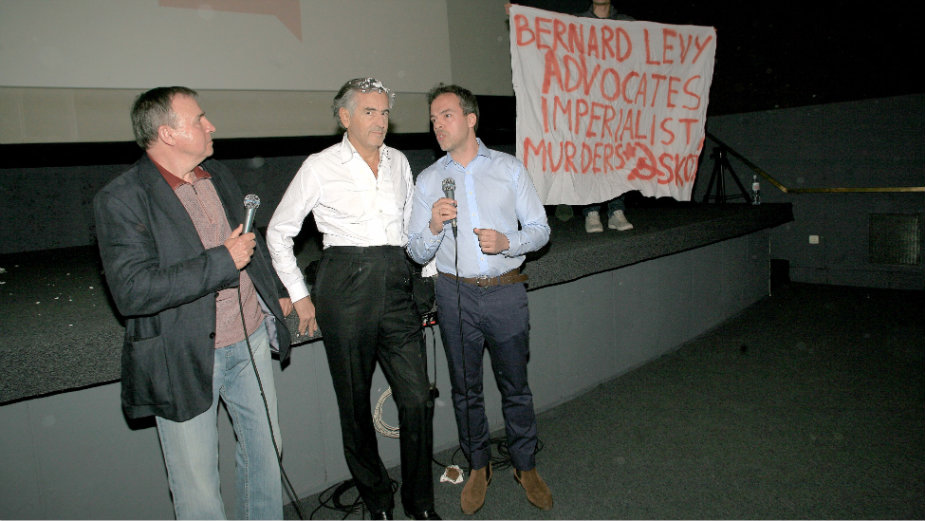 The members of youth communist group SKOJ threw a cake in the face of French philosopher Bernard-Henri Levy at a showing of his film "Peshmerga" in Belgrade on Wednesday evening. The leftists have been shouting: "Murderer, leave Belgrade" and "This bastard has urged Yugoslavia to be bombed eight years before NATO intervention". Shortly before Levy started to talk, a girl threw eggs at him.
In 1990s, Levy strongly criticized Serbia over its role in the Yugoslav wars.
A young man appeared in the podium with transparent: "Bernard Levy supports imperialistic murders"; another tried to attack him. The cameramen who were near stopped him from causing a more serious incident.
Serbian director Goran Markovic got a little bit of the cake on his jacket. Markovic admitted that he was "very surprised" by the incident.
Levy claimed that those who attacked him were "fascists". At first, he left the audience; he came back 10 minutes later saying that the attackers were not anti-imperialists but rather "fascists" who tried to stop his dialogue with the public.
Furthermore, Levy claimed that since 1990s Serbia has not been changed "as much as its friends have been hoping". "Democracy did not win in Belgrade yet. The truth is not acceptable by all in this city. Long live Europe and long live democratic Serbia in European Union! I am proud today because I am defending in the front of you the achievements of anti-fascism in Europe", Levy concluded.
Levy's film about the Kurds' battle against the Islamic State group was being shown at the Beldocs documentary festival in Belgrade. The organizers of Beldocs demanded from the City of Belgrade and government to punish the attackers./ΙΒΝΑ
Photo by Miroslav Dragojevic, www.danas.rs