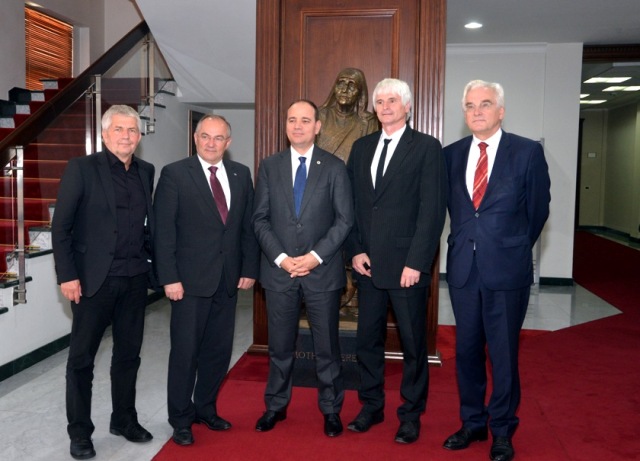 Tirana, 3 June 2015/Independent Balkan News Agency
German and Albanian authorities have agreed on coordinating joint activities on the occasion of the 25th anniversary of the fall of the Berlin wall and the 25th anniversary of the overthrow of the communist regime in Albania.
This was announced today by the President of Albania, Bujar Nishani, after he received a delegation of German lawmakers, which included the Federal Commissioner for STASI files.
President Nishani said that "at the end of the meeting, it was agreed to cooperate and coordinate joint activities on this 25th anniversary of the unification of Germany and the 25th anniversary of the start of democratic processes in Albania".
***
Bundestag delegation of the German Federal Republic, was chaired by MPs Johannes Selle (CDU) and Jospi Juratovic (SPD). Part of it was also the German Federal Commissioner for the administration of the files of State Secret Service of Eastern Germany, STASI, Mr. Rolan Jahn.
A special place in the talks between president Nishani and German MPs was given to the approval of the Law on the Right of Information for the Documents of the former Secret Services. The president said that the approval of this law coincides with the 25th anniversary of the start of the democratic processes in Albania. "The approval of this law is a positive step, but minimal and inadequate, as it doesn't secure full transparency of the mechanism of control by the dictatorship and leaves room for abuse with a part of information. Albanian society must be freed from that mechanism of control and those who led that mechanism cannot lead reforms today. We cannot tell Albanian people that lustration is unnecessary and on the other hand, talk to them is decommunisation of society", said the head of the State.
On the other hand, German MP, Johannes Selle said that it's very important to have wide social consensus. According to him, the law approved in Germany in 1991 has been amended eight times until now to secure the support of German society.
Meanwhile, Federal German Commissioner Jahn considered the Albanian law as the first step, but warned that "if it doesn't focus on the victims, its application would be unsuccessful". /ibna/