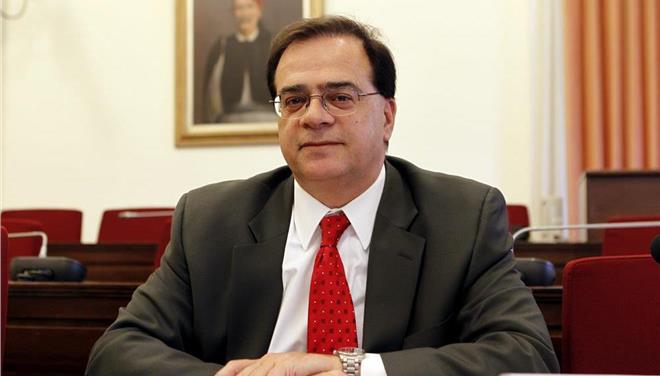 By Lefteris Yallouros – Athens
Greek Finance Minister Gikas Hardouvelis held talks with German counterpart Wolfgang Schaeuble on the sidelines of the OECD World Forum in Berlin.
The ministers discussed the troika's review of the Greek adjustment program and the credit line that will be made available to Greece as of 2015, amongst other issues.
Gikas Hardouvelis appeared confident that Berlin intends to help Athens as it bids to exit the bailout deal sponsored by the European Commission, Central Banks and International Monetary Fund. He also revealed that it was agreed to find a commonly accepted solution over how Greece would exit the rescue program smoothly.
"[We discussed] the progress in reforms in Greece, how we're moving forward, how the Greek economy is doing and also the fact that at the end of the year the programme is ending and we have to form a new relationship from January 1. The German side understands that we have to find a solution soon, to delineate this relationship," Hardouvelis told public broadcaster NERIT.
According to a Greek Finance Ministry official, Hardouvelis and Schauble didn't discuss the possibility of a third bailout package for Greece, but talked about a "new relationship" that will be formed in the post-memorandum era.
The final form of that relationship has not yet been specified, the official said, but "if markets see there's a safety net, then the image of the country will improve and spreads and interest rates will ease."
The optimism of the two ministers was, rather oddly, dismissed by the Greek Parliamentary Budget Office on Wednesday which said in a report that the government's 2015 projections are highly bullish and the impression that Greece will escape monitoring is false.
The report states that the government simply has no strategy for a 'post memorandum' era, and also casts doubt on the Finance Ministry's projection that the Greek economy will grow by 2.9% in 2015.
In any case, the final review of the Greek adjustment program by the troika will have a great impact on the development of the country's economic future. As political risks remain high and bond markets are highly volatile and hostile towards Greece, EU support especially and how talks with the troika unfold will determine the way forward in relation to debt relief and sustaining returning growth.