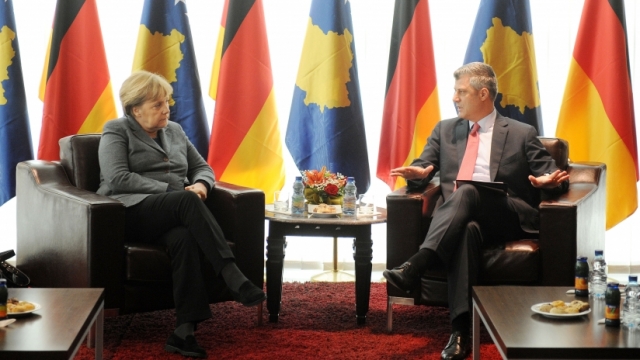 IBNA Special Report
Pristina, August 28, 2014/Independent Balkan News Agency
By Elton Tota
The Berlin Conference of the Western Balkan countries, which will take place today, will offer  an opportunity to the countries of the region to present their projects in order to convince Germans to invest in these countries.
Based on this,  the Kosovar authorities have decided to come prepared. This is at least what the minister of Finance, Besim Beqaj declares.
According to him, this conference is an important moment for the citizens of Kosovo, because Kosovo will represent its economic projections.
"The conference has a Balkan character, where all the countries of the region will present their proposals for investments. The delegation of Kosovo, led by the prime minister, will present the economic situation and then the macroeconomic policies and legal framework for the attraction of investments. The conference will focus on energy and transport, on infrastructure and development of small and medium sized businesses, where we will also present the legal framework and our investment potentials", says Beqaj.
According to Beqaj, the investment potentials consist on the domains of energy, infrastructure, telecommunication and then in the development of small and medium sized enterprises and tourism. According to him, Kosovo will be attractive for investments.
Bashmir Xhemaj, adviser to the outgoing foreign  minister, Enver Hoxhaj, says that the government of Kosovo will go to Berlin with a clear agenda as to what projects to promote as far as potential investments in Kosovo are concerned.
But, experts of economic issues told IBNA that foreign investors do not invest their capital in countries where there are frequent political and constitutional crises, in countries where the justice system doesn't function and where there is massive corruption.
Expert of economic affairs, Vebi Rama told IBNA that Kosovo has natural and human  resources and other investment potentials, but investors do not come in countries where the political and economic system do not function like they should.
"We can never expect direct foreign investments in times of economic and political crises. We can expect investments if the political and economic environment is improved and this must be achieved by the next government and new state institutions", says Rama.
According to him, from 2007 until 2013, direct foreign investments in Kosovo have seen a contraction.
"Businesses must be offered good conditions. It's important to lift five main obstacles that foreign investors encounter in Kosovo, which relates to high interest rates, lack of economic stability, political stability, infrastructure and procedure to obtain construction permits", says Shala.
The Berlin Forum, which will be held on August 12, will discuss issues of energy, technology and infrastructure. /ibna/