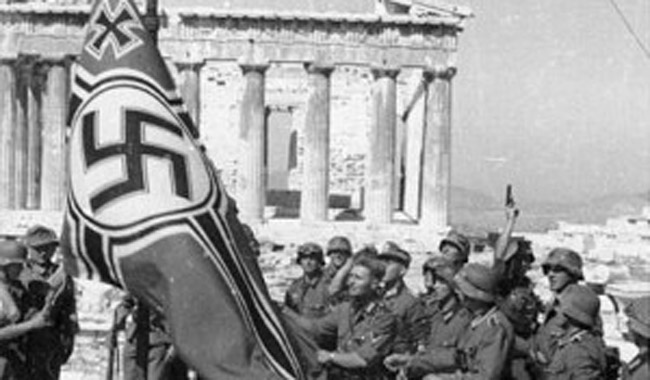 Athens, March 12, 2015/ Independent Balkan News Agency
By Spiros Sideris
The issue of reparations and compensations has definitely been settled, German government spokesman Steffen Seibert repeatedly emphasised on Wednesday, noting that Germany has recognised the moral and historical responsibility for the actions of the Nazis during the Second World War. Mr. Seibert also added that "we should focus on current issues and hopefully a good future".
On his part, the spokesman of the German Ministry of Finance Martin Geiger said there will be no such discussion with Greece, noting that there is the path of international Law. He also argued that this whole discussion is wrong and referred to the current serious problems for which, he said, the current "sensitisation" does not help.
Geiger also stated that "there is no need to discuss the reparations with the Greek government and that the demands of Greece are a distraction from the serious economic problems the country is facing".
Greek Prime Ministers' Alexis Tsipras statements on war reparations made the front pages in German SMEs. Tsipras statements in the Greek House, that Germany should pay for moral reasons made headlines in the Bild. With this title and… many exclamations, the german tabloid says that the dispute over the debt between Europe and Greece escalates, since Athens is close to bankruptcy. The Bild refers to Tsipras' statements and reasoning on the German reparations, going as far as to calculate that Germany based on current date owes Greece 3.5 billion euros.
The issue of german reparations was front page news to Spiegel as well, with the title: Compensation for war crimes: "Greece wants to confiscate german property. Athens raises the tons", writes the german magazine and makes a reference to Paraskevopoulos' statements made in Parliament. The Spiegel comments that the next moves, as Athens implies, will depend on the agreement on the debt.
Die Zeit reports that Tsipras speaks of german compensations amounting to billions. Finally, Die Welt reports that Tsipras speaks of legal tricks and comments that Greece is looking for money.