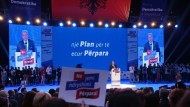 Tirana, May 3, 2013-The chairman of the Democratic Party, Sali Berisha believes that the victory of June 23 elections is in the hands of the women and girls of this country. During the Convention of the Democratic Party on Gender Equality Berisha said that "the victory is in your hands, because victory during these years has only had one name: woman, lady, girl."
Addressing to democrat women in the House of Congress, Prime Minister Berisha said that "this convention is addressed to the woman, which is the most loving and noble mother, the mother which managed to be sanctified with her heart, with the force of her soul, Mother Theresa."
"Today's a great homage for the Albanian girls who through a great effort in a short period of time are doing everything to establish equality between the man and the woman. This is the great fortune of the Albanian women who represent this nation with great dignity", said Prime Minister Berisha. In his speech, Prime Minister Berisha also mentioned a number of important aspects for the Albanian woman. "Today, this convention is homage for those tens of thousands of women which educate the Albanian children. In the most serious study in the world, Albania is ranked first as far as the relations between teachers and pupils are concerned", said Prime Minister Sali Berisha, by expressing his gratitude for the work of teachers in every school of the country.
In his speech, Prime Minister Sali Berisha also expressed his gratitude for the Albanian women who are writers, poets, singers, for the girls who study in universities and who according to him, dominate higher school institutions.
"Today's the day to venerate the noble Albanian women who throughout the centuries acted as the greatest investment by teaching women the love for the nation", said Prime Minister Berisha by venerating the Albanian mothers "Albanian mothers are the most loving and the most dedicated mothers", said Berisha.
The issue of your rights is the most crucial one of human rights, said Berisha.
"Albanian girls and women, join with us in order for nobody to dare and violate your rights and liberties. We will demolish the wall of man domination and punish through the force of law anyone who dares to violate your freedom and liberties. Nobody has had a harder history and gone through more sacrifices than you. In your sacrifice stands the nobility of your spirit. We're here to promise that we will do everything for your rights to be respected in the next 4 years. Albanian girls of all convictions join with us and together we will not allow anyone to violate your rights and liberties. Together with this project we will demolish the wall of man domination. Let us put before the law every person that dares to violate your freedoms. Let us join our voice with every mother and girl which unjustly is violated in her home. But the issue of girls and women is not an issue of sheer human rights, but above all, it's an issue of the development of the nation in a European way. Therefore, I invite all girls and women of Albania to join for a better education. In the four years to come, we will put the woman in every level of the Albanian politics", concluded Prime Minister Sali Berisha during his speech in the Convention of the Democratic Party on Gender Equality. /ibna/