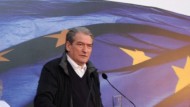 Vlore, May 8, 2013-Prime Minister Sali Berisha was present today in the inauguration ceremony of "Alba-shoes" plant, a plant which has employed 800 workers.
Focusing on economic issues, Prime Minister Berisha said that the government has done everything for the business climate. "We have the lowest taxes, we have lowered the amount of social contributions, we have lifted custom taxes for goods in production, we have reduced health insurance from 22% to 15%, we have lifted custom charges by 12% for goods. We lifted the VAT on every machinery that companies bring in the country for production", said Berisha.
"In order to support the creation of new jobs, we lifted tax on personal incomes for all workers with incomes under 30 thousand ALL per month. We believe that a friendly business climate is the safest way to create new jobs. We recognize the fact that Europe has been hit by a deep crisis, but the European Commission declared that the Albanian economy is one of the 3-4 economies which didn't see recession and which reduced unemployment by 0.5%", added Berisha.
Berisha promised that in its new tax package, the government will examine every element to reduce taxes as much as possible. "This is our alternative, which in the past 4 years, has enabled the country to benefit 4.2 billion USD worth of foreign investments. We will do everything in order for investments to amount to 6 billion USD in the 4 years to come", said Berisha.
Berisha said that this has been achieved with great efforts, but a black cloud is approaching the sky of the Albanian business and that this is the cloud of high taxes.
"Those who promise high taxes, those who promise closure of plants, departure of investors, fall of investments and job cuts", said Berisha referring to the opposition. Berisha also demanded to the workers of this company "to choose between two alternatives in the June 23 elections. The alternative that does everything to open jobs, create a friendly business climate and do everything to make Albania an attractive country."
Even during this meeting, Berisha talked about the three laws of the integration. "The status is being blocked, because the opposition is not willing to vote the three laws, believing that it's damaging the government. But in reality, it's damaging every Albanian", said Berisha during a meeting with the workers of a shoe company in Orikum, Vlore. /ibna/