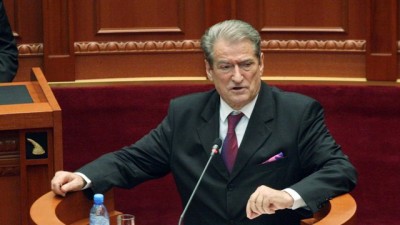 Tirana, May 6, 2013-In today's parliamentary sitting where the three bills of the integration in the EU were expected to be ratified, Prime Minister Sali Berisha declared that Edi Rama has turned the three laws into black lists.
"Let us not turn the 3 laws into black lists at the detriment of his supporters. This world cannot be perceived as mere bargaining. It has now turned into a black list as to which to accept and which not from the Socialist Movement for Integration. This was the reason why today's voting was postponed. But we're ready to vote them at any time. The responsibility falls upon him who served as an obstacle for the candidate status. Our international friends and partners have reiterated the fact that what the Albanian people are doing to their country, has not been done by anybody else. I expected the three laws to be voted today, but until they bargain with each other, they will not vote", declared Berisha.
Amongst others, Prime Minister Berisha said that the Socialist Party will continue like this until June 23, the day when it will receive the answer by the people.
Prime Minister Berisha said that for Edi Rama and the SP today was a day of bargain and didn't participate in the voting, inviting them as soon as they complete their bargain to come in parliament and vote, thus avoiding the holding of the referendum. /ibna/