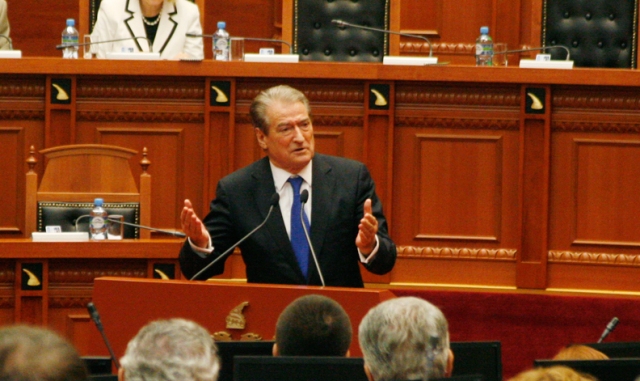 Tirana, September 26, 2013
Former Prime Minister Sali Berisha accused today during parliament proceedings Prime Minister Edi Rama for blocking the process of integration. He said that Rama is attempting to ruin the consensus reached for the law on civil servant.
"I'd like to profit from these two minutes to raise the alarm about the fact that the status may be postponed beyond December in order for it not to be attributed to the Democratic Party and its government", said Berisha.
Berisha declared that the majority has prepared the normative act in order to postpone the law. "I was informed that the normative act has been prepared to ruin consensus, which would hinder the status. It would be a grave mistake to postpone it. Foreign Minister along with the Prime Minister have lied in Brussels for acts which are not like that, but I have faith that Albanian parliament will enable the EU candidate status of the country to be granted in December. If this opportunity is wasted, then it would be a big punishment due to the European elections which will be held next year", said Prime Minister Berisha. /ibna/