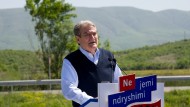 Korça, May 1, 2013-Prime Minister Sali Berisha said today in Prespë that the reforms of his government protected the Albanian economy.
In the inauguration of the road that links PrespaLake with the border crossing point of Gorica e Madhe, Prime Minister Berisha said that the government that he leads talks with actions. "The European Commission proposed the status of Albania thanks to our reforms", said Prime Minister Berisha, adding that "Albania is the only country where unemployment fell by 0.5%".
"We lifted every tax on import in order to increase production. We took several decisions which are historical decisions for farmers. This government paid serious attention to your farms. We have invested billions of dollars in infrastructure. My promise is that we will pave every kilometer of road, in order for farmers and the citizens of the country to travel in modern roads. We will reduce the travel distances", promised Prime Minister Berisha amongst others.
"But what is the other alternative? It showed that it consisted on boycott and blockade. At the moment when a decision was being taken to lift the visa regime for Albania, they set up their tents in front of the Council of Ministers in order for that decision not to be taken. Rama demanded for the ballot boxes to be opened, but all of these arguments were sheer lies. The EU candidate status is being blocked and through this status, you can benefit hundreds of thousand of tourists", continued Berisha.
Prime Minister Berisha considered the road that links Prespa Lake with the border crossing point of Gorice e Madhe as very important, not only for Korçë, but for Albania too and those tourists that visit Prespë as one of the most beautiful pearls of nature. Berisha said that "this road is also important about the fact that it connects Albania with Macedonia. My policy is to cooperate in all domains with the neighboring country, in the best interest of the countries, nations and region in general." /ibna/