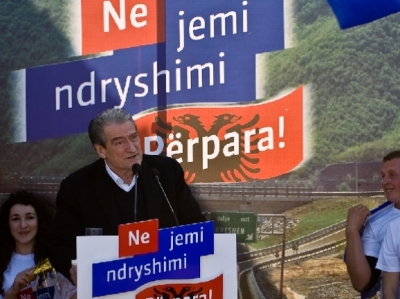 Tirana, 11 April 2013
Prime Minister Sali Berisha stopped in Kashar, a commune on Tirana's outskirts, to talk to locals.
He expressed his appreciation to the inhabitants of Kashar area, pointing that great changes not believed to happen years ago have taken place within a short period of time.
"Kashar is the commune which managed to transform itself into the 9th best developed center of the country at amazing speed. Whole towns, which were first category ones now fall behind with regard to development and economic power. Rural Albania was the deserted Albania of mud, whereas today it is a different reality" said Berisha.
The Prime Minister pointed that he will continue his daily communications with citizens for drafting the governing program for the next four years, poking fun at the socialist leader saying "Let's make comrade Edi Rama choke on Nard Ndoka's eels".
Nard Ndoka was said to be the one who enabled the meeting between Edi Rama and Nard Ndoka in Lalzi Bay about a year ago, a meeting believed to be the starting point for PS-SMI coalition. /ibna/